This adventurous Outer Space baby shower was created by Naturally Yours Events. They definitely made it a fantastic theme for a special little girl-to-be.
The invitations were a delightful blend of bold blue for the outer-space effect and delicate pink, telling the world that soon a wonderful little girl would be joining.
With the added challenge of people usually associating outer-space with a boy theme, Naturally Yours Events managed to successfully incorporate a feminine touch throughout the whole area that left no doubt about the gender of the baby.
The back drop of the dessert table was brilliantly done. Dark blue wood was displayed covered in vibrant yellow and pink stars, making the guests feel like they were visiting outer-space.
They found perfectly rounded yellow flowers that were placed in white vases that really brought the theme to life. With a variety of delicious treats to have, each guest was certain to find something they would love. There were planet cake pops, labeled of course that really had a planet-like quality and coloration, making them a fun little treat. The cookies were little green astronauts that anyone would enjoy eating right up! With milky way brownies that looked divine, this dessert table really had it all.
The cake for the party was placed right in the center, showing the whole area what this celebration was all about. With two-layers of fantastically out of this world decorations, the cake was an experience all by itself. With an astronaut and a rocket ship on top amongst the stars, the detailing on this treat was magnificent.
One absolutely unique and wonderful idea that helped complete this party was the Fill the Baby's Galaxy activity. Each guest was invited to place their finger print on an outer-space sheet of paper, so baby would know what their own personal galaxy looked like.
Credits – Event Design, Planning, Invitations, and Decor: Naturally Yours Events
Photography: Liesl Diesl Photo
Venue: Catalyst Ranch
Bakery: Luscious Layers Bakery
Florist: Pistil & Vine
Catering: FIG Catering
Printing: Spilled Ink Press
Star Cutouts: Tweedle Press www.tweedlepress.com
Favors: Bright Endeavors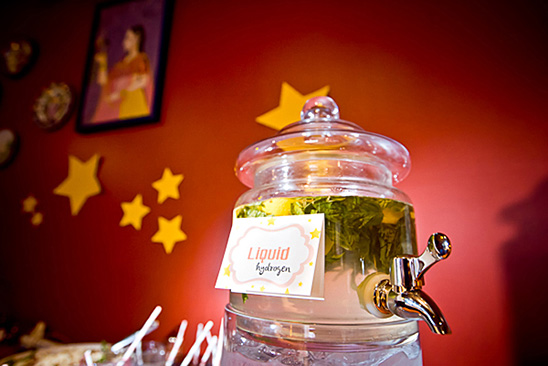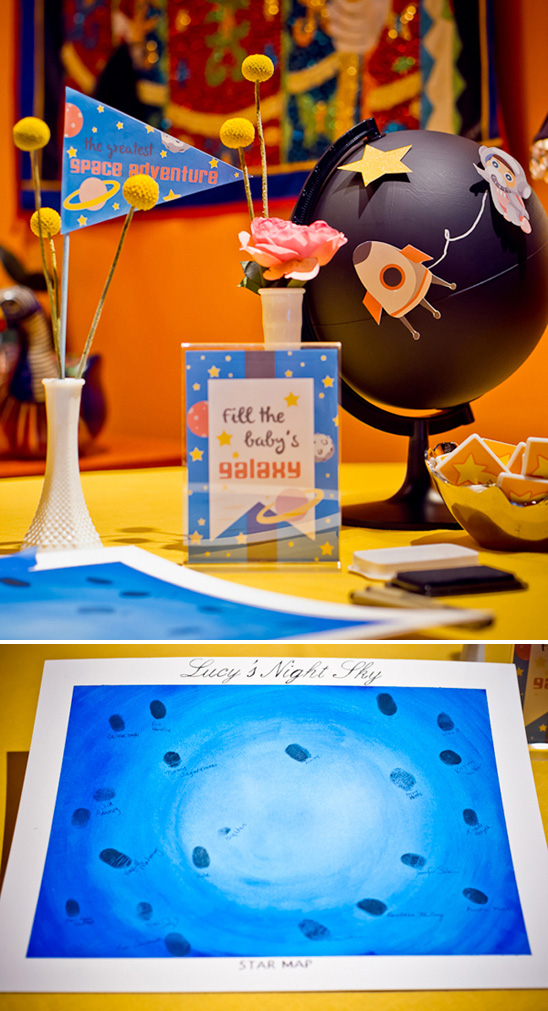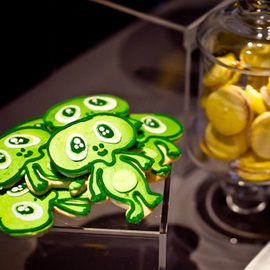 MORE INSPIRATIONS: