Baby blossom co got to create this fun Alligator Baby Shower. With such a unique and entertaining idea, it was sure to be a blast.
One of the centerpieces of this party was a fantastic alligator diaper cake that was lavished in details that would last long after the party since it was stuffed with gifts for Mom-to-be.
Using blue and green as the color base for this party, the decorations were a great mix of bold and white that brought the event to life. The dessert table was spread quite nicely with a variety of edibles and decorations that had a great balance. The table was covered in a white cloth that made an ideal base for the bold colors that were placed on top.
The front of the dessert table had a very fun banner announcing that baby-to-be was a boy, with wonderful alligators of course.
The cupcakes looked tasty, frosted in white and topped with little alligator labels that were sure to impress the guests.
One of the brilliant decorations at this party however, were the table centerpieces. Instead of the standard florals, Babyblossomco created a memorable option that would be used after the party was long over. In a fun pail in blues and greens, was a variety of flowers made of rolled up diaper cloths and other various baby needs, and filled in with fun green paper grass.
With such creativity this party was such to be one for guests to remember long after it was over. There was thought put into each little detail and it reflected in the balance and fun of the entire event.  All of the paper decorations including banner, cake topper, and cuocake toppers were from from Angies Designz on Etsy, allowing any mom-to-be to re-create this fun-filled theme with ease.
Credits –
Baby blossom co
Paper banner, cake topper, and cupcake toppers – Angies Designz on Etsy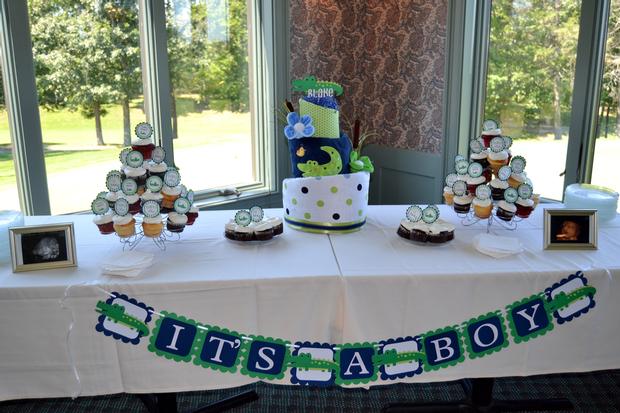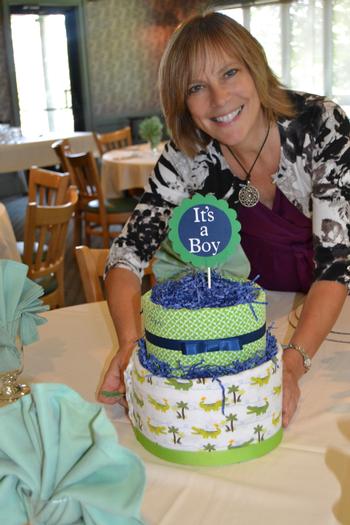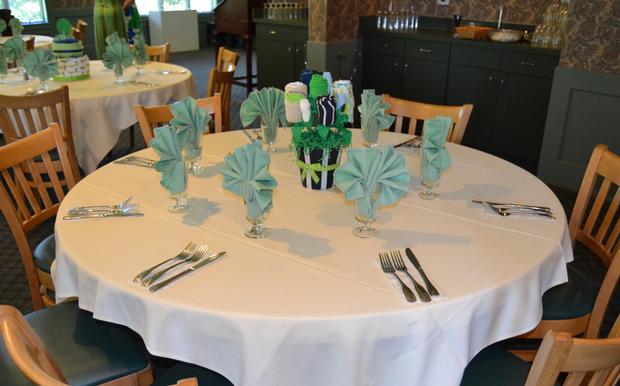 MORE INSPIRATIONS: