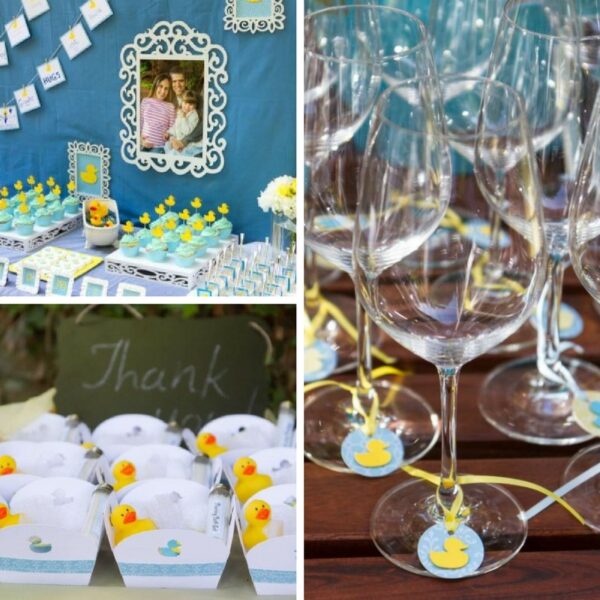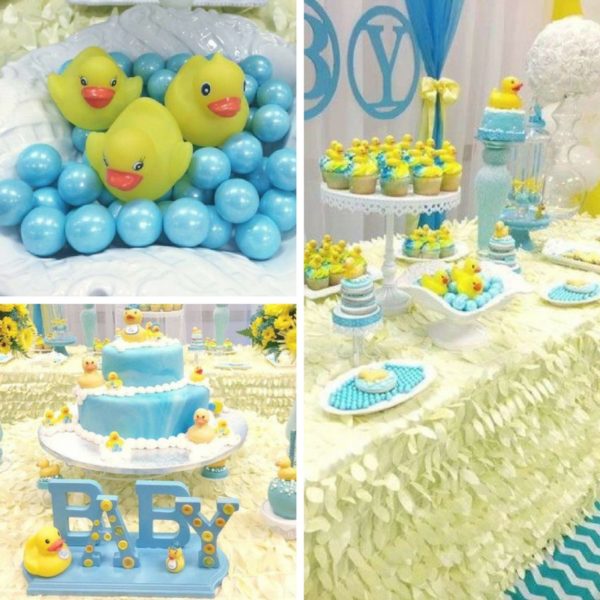 Duck Themed Baby Shower Ideas 
There are some expectant couples that do not want to know what the sex of their baby is until the big day arrives.  Couples who are carrying a mystery child will do everything in a more neutral tone that would be fitting for either a boy or a girl. Though the friends and family members of the expectant couple may find it hard to plan their baby shower because they do not know what sex their baby is, the truth is that a duck themed by shower can be a perfect fit because ducks can be for either a boy or a girl.
Rubber Duck Baby Shower Invitation

The baby shower invitations are typically a card that is sent through the mail, but there are other ways to create the baby shower invitations other than a card dropped in the mailbox. One fun way to send out the invitations for a duck themed baby shower is to hand deliver them with the card tied around the neck of a small stuffed duck. People will be delighted to get a stuffed animal invitation especially if it is a baby shower where there will be children, the duck will be a cute souvenir from the happy occasion.
Rubber Duck Baby Shower Decorations
Ducks are a popular theme to have in the home, which means that the hostess can easily find ducks for decorating purposes. However, to keep the cost of decorating for the baby shower low, the predominant color for the decorations can be yellow. Plain yellow table cloths, plates, cups, napkins, and silverware can be found at dollar stores, and if the hostess wants a clever centerpiece for every table, she can find a big rubber duck or a stuffed duck to put in the middle.
Rubber Duck Baby Shower Backdrop
Backdrops could be anything from a large rubber duck poster to handmade streamers in yellow and blue!
How to Easily Make a Backdrop Video
A Pot Luck Baby Shower
If you are on a tight budget, one way to host a shower no matter how big or small is to get everyone involved by asking them to bring one dish to the party. By having a pot luck duck themed baby shower, everyone will have plenty to eat, a variety of different food to eat, and all the hostess will need to worry about is getting the duck cake. To make it more interesting, you can challenge everyone to bring a duck themed food. I'm sure they will surprise you with what they come up with!
For drinks, you may want to consider an adorable rubber duck fruit punch using blue berry mix . You can add some ice creams to make it look like foam as well. It's simple and a perfect idea for a centerpiece.
Duck Themed Tableware
FREE Duck Themed Baby Shower Printable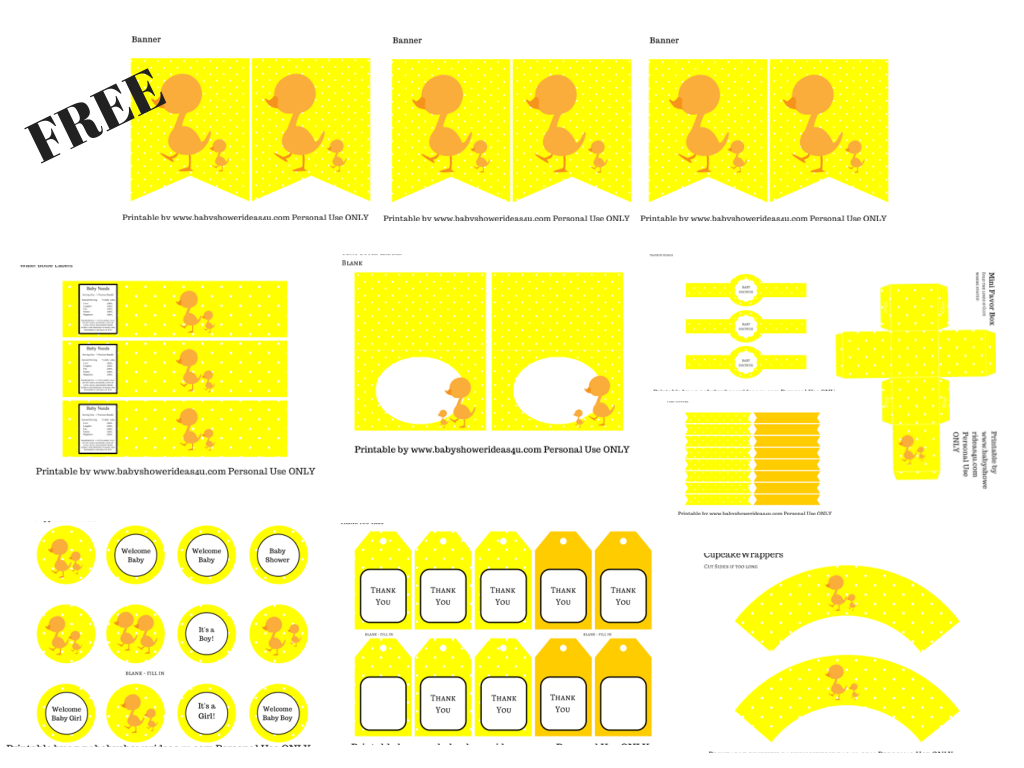 FREE Duck Themed Baby Shower Printable for TWINS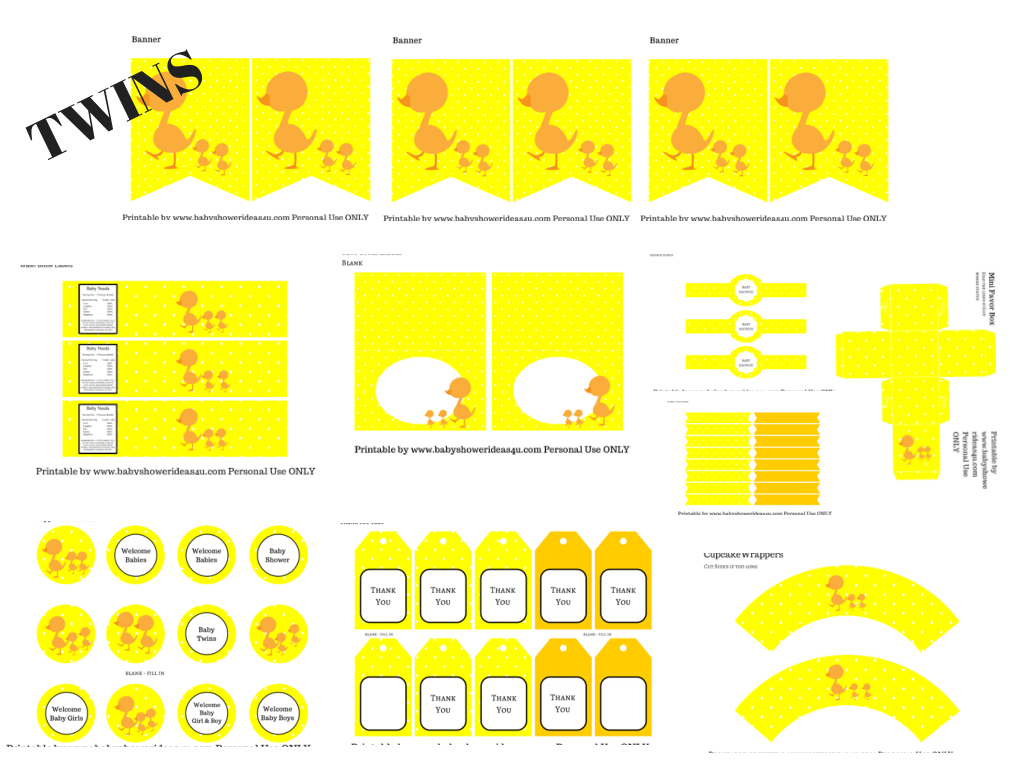 Rubber Ducky Baby Shower Games
One fun game is to use a small kids pool that is filled with water, and rubber ducks are set inside of it. Each duck is marked with a magnet and a number or a color. The idea is for each guest to pick a duck, and the one who finds the right duck is going to get a prize. A fishing pole can be rigged with a string and a magnet tied to the end of it, and each guest will pick a duck. The game is fun because everyone gets a prize no matter what duck they choose, and one lucky guest will get an extra special prize for picking the right duck.
Other games that are simple yet popular include; name that baby animal. This involves asking your guest to name the baby of an animal. For instance : DUCK = Baby name would be "DUCKLING". Another fun game is guess the baby food game. You'll need to purchase few tasty baby foods from the local super market. Remove the labels and ask the guests to guess what flavor it is by tasting, smelling. You can choose foods that are all yellow to fit in the theme.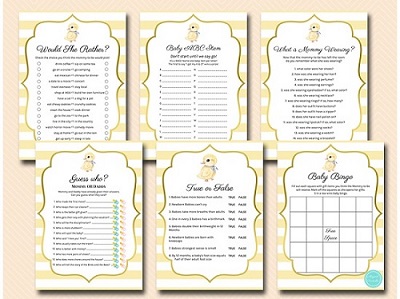 Duck Baby Shower Favors