The best thing about a sugar and spice baby shower theme is that a lot of your focus is not only on the new baby-to-be but also on a bunch of really great food! With a simplistic palette of colors, decorations, and atmosphere, this kind of baby shower is one that foodies will truly enjoy.
Sugar & Spice Baby Shower Invitations
For starters, you'll need to decide on an invitation design. If you wanted something very girly, perhaps a pink and gold invitation might be the way to go. For something a little unique, you can have a chalkboard background for a nice finish.
Sugar & Spice Baby Shower Decorations
Stick with colors of deep brown, gold and baby pink for decorating colors, as this represents the two worlds of sugar and spice perfectly.
Pink streamers or garlands, pink and gold balloons, and hot pink tablecloths with the shimmering gold table runner are a great setting for the theme, while vintage sugar jars with pink roses arranged inside are fabulous centerpieces. Brown bows with pink polka dots on the backs of chairs and DIY cloth tassels hung from ceilings and table edges are a sweet touch.
Get some inspiration from the photos below of Ravishing Events' works for this sweet theme: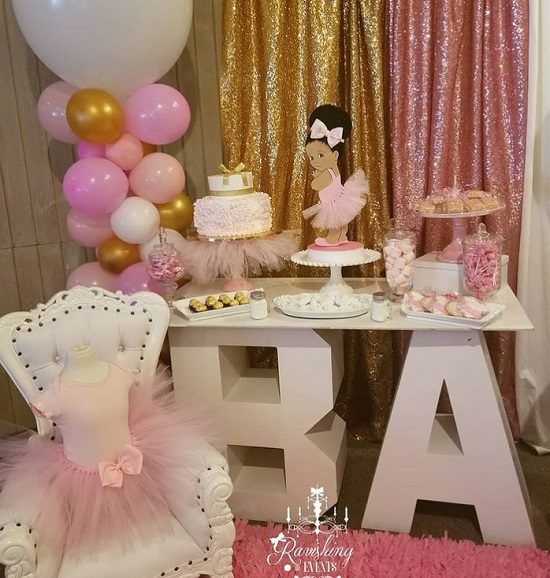 Fabrics of lace and burlap mesh splendidly with décor and banners with pepper shaker cutouts and words that congratulate the mommy-to-be can be posted up as a backdrop to the main food tables. Set up a photo booth with a simple pink and brown background and have guests pose in their best sweet and not so sweet facial expressions.
Sugar & Spice Baby Shower Food Ideas
The best part for the guests (and the mommy-to-be eating for two!) of this kind of baby shower is all the amazing food. It's best to have two tables: one for sweet treats and one for spicy/saltier fares.
For the sweets table, start with the shower cake, which can be a simple, flat sheet cake that's frosted in pink and brown swirls, or a more elaborate cake with triple tiers in brown and pink layers and gold polka sugar fondant. Top the cake with the baby to be's name and enjoy the chocolate decadence of its flavors.
Other desserts to include on this table are pink trays of butterscotch fudge, Krispies, chocolate chip cookies, white chocolate dipped jumbo marshmallows, and miniature cupcakes with glittery pink frosting. Glass jars filled with sugary candies like gumdrops, and bowls of powdered white donuts and flower cake pops are an extra dose of sweetness.
For the spicy food table, go for spicy dips and chips, wasabi nuts, and a platter of small, sweet peppers. More filling items like croissant sandwiches, ham and cheese pinwheels, garlic knots, and cashew salad with fruit are all great for when the guests are ready to sit down, relax, and munch on a scrumptious meal.
It's also a neat idea to line this table with a certain décor accent in the form of as many jars of different spices as you can find. This goes brilliantly with the theme and it's an amazing conversation starter amongst guests, as everyone has a favorite spice or two.
Sugar & Spice Baby Shower Favors
For baby shower favors, you can't go wrong in filling mason jars with ingredients for sweet and spicy recipes that guests can take home with them and cook up. On the same token, you can set up an activity in which guests mix and match favorite spices and sugars to make one (such as garlic pepper or cinnamon sugar), and they can take their creative concoctions home with them.
For something very simple, you can fill up a clear bag with sweets and add an adorable personalized tag!
Sugar & Spice Baby Shower Games
Baby shower games such as a generic table mad libs, or a more themed game of "Name that Spice" will ensure lots of laughter and plenty of happy memories.