She Paperie + Design Boutique was given an opportunity to put together an elegant and fun Sugar & Spice Tablescape that I think would be a fantastic idea for a baby shower to remember.
The table was set outside in a very natural setting, allowing them to utilize the beauty around while adding touches that enhanced the effect.
With a light, pastel color palette this set-up was color perfection with a blend that really created the elegant effect.  From tree branches were hung delicate lanterns that  filled the area with a grace and lightheartedness that is sometimes difficult to achieve.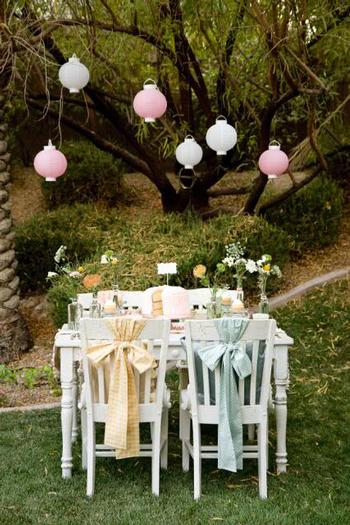 The chairs were a beautiful vintage white that were wrapped in giant bows that looked absolutely marvelous. Each chair had a unique and beautiful back pillow placed on it to give the guests optimal comfort as they ate. The table itself was also a vintage white giving a soft and sweet feel.  With a fantastic canvas runner lined with all kinds of different ribbons, this party was sure to please.
The table decorations were very lovely, an array of small clear vases, showcasing tiny blossoms that stood tall.  Each vase was tied with a little pink string that wrapped into the theme nicely.
The individual place settings were adorable and extremely detailed.  With floral little mats topped with perfectly folded napkins and gorgeous china plates, each setting was fantastic. There were even ribbons folded as bows, topped with tiny little cupcake platters holding delicious little treats for all guests to enjoy.
The cake was a vision, an abundance of pink frosting that just oozed with delicious appeal. The frosting actually had a ribbon-like look to it with the detailing that was done. Set on a lovely clear cake tray, this dessert was definitely a fantastic centerpiece for this lovely event.
Credits – She Paperie + Design Boutique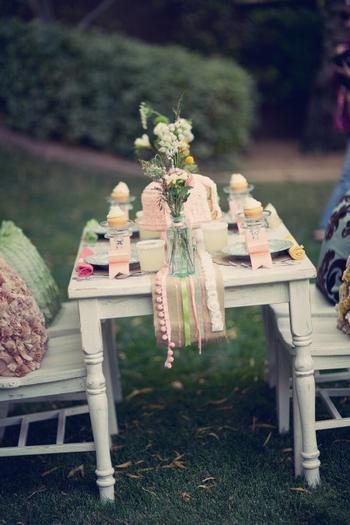 MORE INSPIRATIONS: