Baby Pink? Baby Blue? Now, it's Baby Green!
With the emphasis on saving Mother Earth, celebrating the arrival of your new baby can bring very different challenges for your Eco-friendly Baby Shower. Recycling and using organically sourced products has become a way of life for many these days so your friends and relatives will have little trouble looking for gifts that will fit in with your philosophy – and they will have fun looking for fresh Baby Shower ideas.
Eco-friendly Baby Shower
Invitations
One fairly obvious way not to use paper is to send your invitations out by email or invite using facebook group or other websites that allows you to organize an event – however, there's nothing quite like creating some handmade invitations using and delivering them by hand to your closest friends and relatives. You can use PCW recycled paper which are processed without chlorine. Receiving something handmade and original is extra special as it could be kept as a keepsake for the recipient to treasure. Many websites offer beautiful cards that can be sent by email so if you choose this idea, select cards with messages that reflect the Eco theme of your Baby Shower.
Decorations & Food
When planning your Eco-friendly Baby Shower decorations, head for your local market for flowers in season that have been grown locally. Your local market will also be a perfect place for much of your food as many specialize in organic or locally-produced products. Some will prepare and/or provide party food that has been sourced from nearby producers to which you can add dips and snacks for everyone to enjoy. For drinks, search out nearby breweries – in you are inviting the guys – cider makers or fruit pressers and impress your guests. New and different food and beverages will interest everyone and get them talking to each other. There are so many new combinations for drinks – try pregnancy-safe drinks like organically-grown Apple and Ginger Punch diluted with sparkling water.
You can spice your drinks up by putting out pieces of fruit for munching or dipping into drinks. Don't forget to continue your Eco-friendly theme, you may want to use plates, silverware, glassware, tablecloths and cloth napkins., although if you make compost, then some planet-friendly, biodegradable disposable paper dining-ware can be recycled to your compost heap (not the local landfill site!).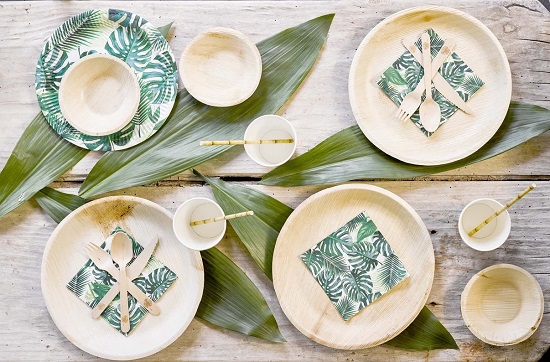 Gifts
If your Eco-friendly lifestyle circles around re-cycling everything and cruising consignment outlets to search for the best deals, then your guests will find plenty in the baby sections at very affordable prices. You may be lucky and have a friend or relative who can make a beautiful crib from re-cycled wood or can create a range of dainty baby clothes or a layette for the new arrival from fabrics capable of being re-cycled. Not everything has to have a patched up or 'pre-used' element. People these days are creating the most wonderful Eco-friendly gifts that could become inheritance treasures that could be passed on to future generations.
Other Eco-friendly baby shower gift ideas can be made of sustainable materials such as organic clothing, organic cotton clothes, cloth diapers, wooden toys, green cleaning products and others. One thing to not forget is to ask your guests to have their gifts wrapped creatively with the use of recycled cloth or newspapers or not be wrapped at all.
Games
Apart from listening to stories and discussions about labor and diapers, you will want to get involved with some games that will not impact on the planet too much. Old-fashioned school yard games may be a solution. Good example would be the guessing game. Perhaps a "who is that baby game". Ask everyone to bring their baby photo. Place them on a table and let everyone guess who that baby is and everyone can share their childhood story. Another example is guess how many jelly beans in a bottle game.
Favors
Thank your guests with party favors that you have made yourself if that is an option. If you have a healthy herb garden, you could dry a variety of herbs for herbal teas or sprinkling on home-made dishes. Put them in small recycled glass containers to make pretty, old-fashioned and very Eco-friendly gifts. Organic chocolate or plantable seeds is always welcome. Have your names (and the stork) iced on chocolate. Some great ways to welcome the new bundle of fun and continue your commitment to helping Mother Earth to clean up our planet.