K-Event Decor went all out on this elegant Tiffany themed baby shower.  Using the classic color palette of Tiffany blue, black, white and silver, the venue had a soft and sweet look.
The treat table was a stunner with a brilliant display of decor that accented the edibles perfectly.  A lovely DIY backdrop was done in Tiffany blue with Baby & Co. spelled out in large black lettering with an adorable white ribbon clip art center.  Hung in front of a long sheer as well as a glamorous silver sparkle curtain, this bit of detailing drew the eye effortlessly. Right in front of the board a valence of black and white stripes added a bold touch to the look.
This table had a fantastic, clear, unique look that allowed it to make the food almost appear to float. All of the glamorous bits of decor filling the table ensured that an accenting tablecloth or runner was not necessary. Fantastically long vases held bouquets of lovely white flowers on each side of the cake, giving a modern and fresh touch. Cute little mini-mannequins showcased strings of pearls, remaining true to the Tiffany inspired theme.  Candles in gorgeous globe-like covers stood tall on pedestals, adding a touch of soft lighting.  The treats were laid out on glamorous trays of black and silver, blending with the theme spectacularly.  The cake was a perfect addition to the party with three layers of intricate detailing, from the box on top to the lovely rosettes on the bottom.
Directly underneath this fantastic dessert table bouquets of flowers and a vintage baby carriage ensured that the style of this area stood out from the ceiling to the floor.  To each side piles of Tiffany looking boxes were placed with precision.  Each detail of this lovely shower ensured a sophistication that any mom-to-be could appreciate.
Credits – K-Event Decor Instagram – Keventdecor | Facebook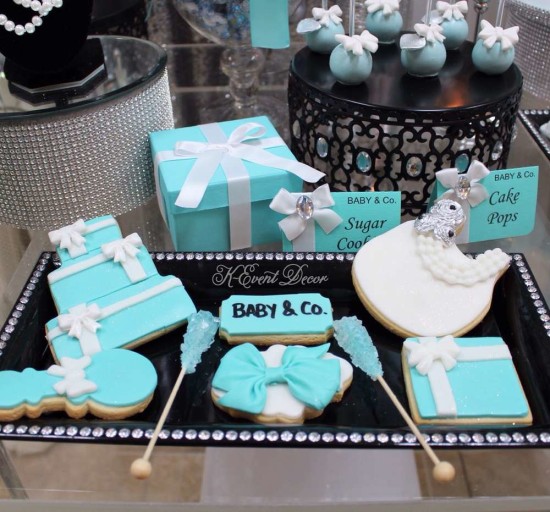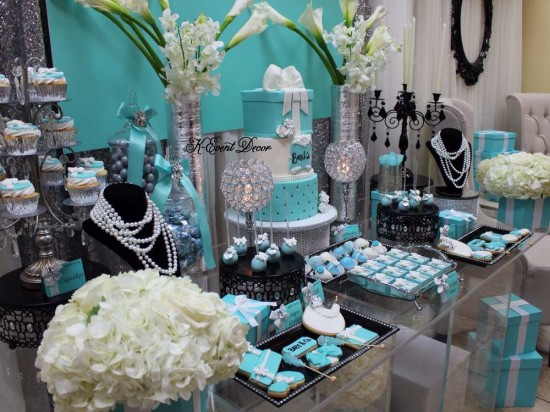 MORE INSPIRATIONS
Breakfast at Tiffany's Baby Shower