A tropical themed baby shower is the perfect shower theme to incorporate bright colors and oversized palm leaves! Pineapples and pretty hot pink flamingos and exotic flowers will also likely make an appearance! A tropical theme sends vibes of family togetherness and love, which is fitting to welcome a new baby into the world. You better put on your grass skirt, because there is a baby shower to plan! Below are a few ideas to get you started!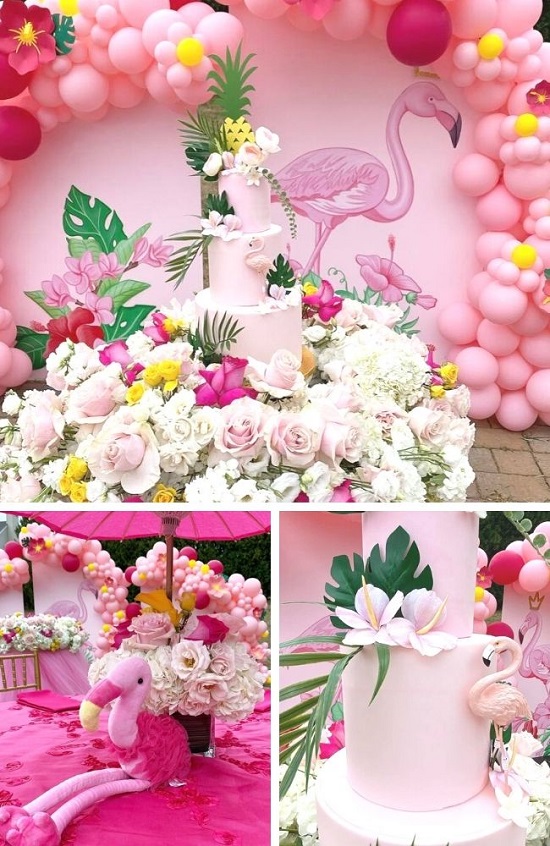 Flamingo Straws
This adorable flamingo straws will add the perfect pop of bright pink to your party! The straws are sold in sets of ten and will be packaged flat for shipping. All you will need to do is simply assemble the tissue paper body and display the straws for your guests to use and see! Matching table accessories can be ordered if desired.
Pineapple Garland
This pineapple garland incorporates just the right amount of bright, tropical colors for your party! The garland includes four large pineapples and five palm tree leaves. All of the flags are movable and are strung across sturdy twine. The pineapples measure approximately seventeen centimeters tall and the leaves measure approximately eleven centimeters tall. How lovely would this garland look hanging across a display table or hanging along a fence outside?
Bright Colored Pompoms
These bright colored pompoms resemble colorful tropical flowers! You will receive six large pompoms, two medium sized pompoms, and two small pompoms. The pompoms will be shipped flat to your door, however, assembly is simple. String is also included for hanging. The pompoms are available in the following tropical colors: citrus, lime, hot pink, butter, lemon, peacock, apple, mango, tangerine, and azalea. You have the option to customize the colors as desired.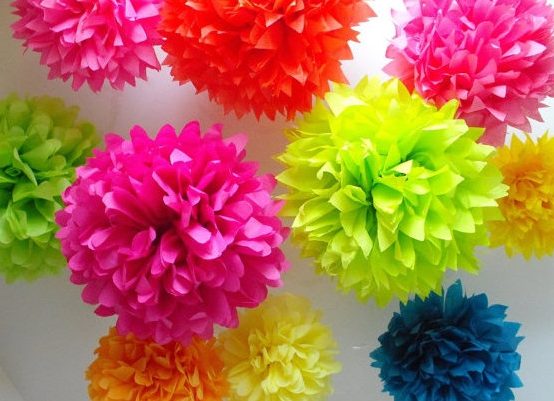 Pineapple Tops Cupcake Toppers
These pineapple tops cupcake toppers are sure to fit in with the theme! These are printable files so they are perfect for last minute decoration! The toppers would make an excellent addition to yellow icing cupcakes or other finger food items.
Tropical Candy Container
Send your guests home with a delightful tropical treat in these candy containers. You will receive ten empty containers that will be ready to be filled with your favorite candy. Each container can hold up to one cup of candy that is similar in shape and size to skittles. Other ideas include M&Ms, bright colored gum balls, lemon heads, or Mike & Ikes.  There is some assembly required. All you will need to do is hot glue the tiki character to the top of each container. You have the option to order coordinating cupcake toppers and centerpieces if desired.
Etsy by itzwhimzeycal
Tropical Themed Collection