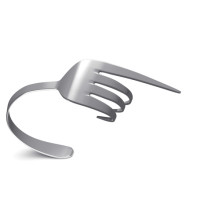 Simple Baby Shower Food Ideas
A baby shower is a monumental event in a new mom's life, and while the decorations and themes for this type of party are fun, exciting, and full of creativity, that doesn't mean the food fare has to be complicated. The simplest array of good eats is the favorite for hosts and guests of a baby shower, not only because they can be super delicious, but also they offer the ease of setting up and eating. Finger foods are the perfect gem for a baby shower soiree, and the options for both salty and sweet fares are limitless in options!
Pigs in a Blanket and pizza bites are amazing go-to's for simple grab and eat deliciousness. Pair with easy beverages such as lemonade and punch drinks in unbreakable glasses, and you've got a real delicacy of enjoyment for guests. Potstickers, meatballs, and cheese platters are also a fantastic offering that allows your guests to eat without a mess or even utensils. For delightful treats, cake pops, lollipops, wrapped candy bars, caramel squares, or anything situated on a stick, are just as easy to grab and take into the mingling of the party. No matter what the theme of the baby shower or specific tastes of your guests, you absolutely can never go wrong with the simplest of food while keeping it delicious and easy.
Risk Foods for Mommy-to-be
When deciding on what food to serve, there are couple of things to keep in mind. Foods such as soft cheese, cured meat, raw or partially cooked food are risk food for mommy-to-be and are not recommened for her to consume. These include sushi, salami, prosciutto and chorizo . She may be okay that it is still served for the guests, but it would be nice to get her okay first. Salami and Chorizo and many other cured meat can be cooked and still taste delicious so don't think that Mommy-to-be needs to miss out. Have a separate plate for cooked version just for her. If you are also serving salad, you would need to ensure they are washed thoroughly.
What Foods and Drinks to Serve
Baby Shower Food and Drink Ideas:
There's no special recipe for a baby shower food and drinks menu. It usually depends on the audience and who is going to participate.
Another aspect to consider is when the baby shower is taking place. Is it a warm afternoon, a lovely sunset or a light dinner? Based upon the previous factors, here are some menu tips.
When speaking about food, think about the whole room full of guests. Are there only females? Or can you see some gentlemen, children, maybe old relatives? If it's a mixed audience, then the food menu will be totally different from an all-female party for example.
1)Appetizers & Finger food
When having a girl party, it's nice to choose some fresh appetizers or finger food. Tease the atmosphere with some carrot zucchini bars or small triangle cucumber sandwiches, next to a red-green bouquet of pepper dips and fried mozzarella bocconcini. On the other hand, a mixed audience including men and children may need a small addition of proteins, so go for some delicious saucy meatballs or Mac and Cheese Bites or bacon and cream cheese stuffed mushrooms.
2) Main course
This particular course is not necessary if you're organizing an afternoon baby shower. However, if the party is extending beyond that, or will be held in the evening, then it will be mandatory to add a warm plate to your menu. There is no need to be overly sophisticated, just choose a soft warm dish like skewers, meatballs, or grill eggplant with tomatoes and cheese. If dealing with a mixed audience, you can serve spaghetti or pasta which is the most popular modern dish for a baby shower, plus it is also filling and easy to eat, so your guests will be satisfied. For a light late dinner, surprise your audience with a casserole of white cheddar and Parmesan cheese with potatos. It's delicious and it melts in your mouth! Lemon chicken and baked mashed potatoes are also a nice idea for a late course.
3) Dessert
Don't limit yourself to only a cake, there are so many recipe ideas for dessert it would be a pity not to try them! Starting from cupcakes, to pink or blue popcorn, cookies, cake pops, jelly or the classic brownies. Gather them all and think about a nice decorated scenery. At the end it will be hard to resist them!
For a healthier option, go for a creative fruit platter such as a watermelon baby carriage platter!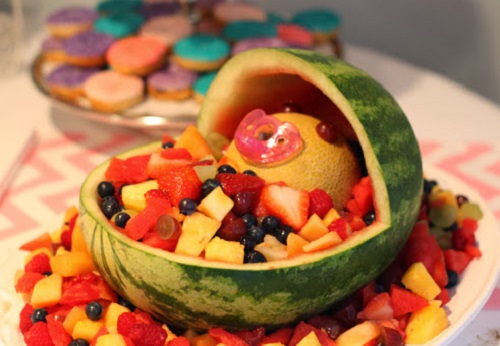 Drinks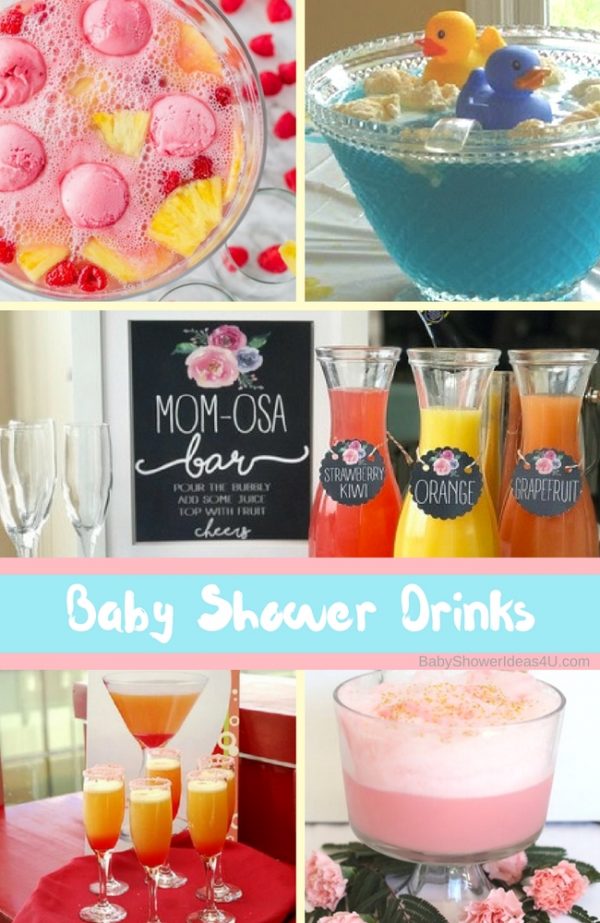 A subject of discussion is whether to serve alcohol at a baby shower or not. In the end, it's about personal decisions but nonalcoholic baby showers have disappeared slowly. As a courtesy, it is always good to ask the mom-to-be and reassure her that there will be other delicious drinks for her to enjoy such as fun fruity alcohol-free-punch made from blueberry or raspberry flavored drink. You could also have another one with alcohol for the guests.
Many years ago, a baby shower was something rather girly, but today, baby showers are more couple orientated, getting closer to a private party with baby-themed gifts, with food and drinks of all sorts.
1) Female drinks
Needless to say, the expectant mommy will not be partaking in alcoholic drinks so the rest of female guests have the possibility to choose between virgin or alcoholic cocktails. If you have your own bar, buy ingredients for basic cocktails so if there's a boy, you can easily prepare a blue swimming pool or a raspberry cocktail if it's a baby girl. White wine combined with club soda is another solution for the ladies.
2) Male drinks
The most easily to handle! For a casual baby shower, you can always welcome a man with a beer, but since it's a special occasion it's better to spoil the men too. So pick an elegant bottle of whiskey or try vodka based cocktails. A good old red wine is also to be taken into consideration. Just think about what would make them comfortable.
3) Children drinks
Raspberry lemonade or pink grapefruit lemonade are the most popular drinks for children. Strawberry milk may also suit the theme very well. Little girls will be enchanted.
Don't overload the menu, think about fresh, consistent ingredients and visually appealing recipes which will flatter the guests, feeling comfortable at the table.