While a baby shower is a special occasion on its own, a gender reveal baby shower can be extra memorable. There are many ways to reveal a baby's gender to the guests, whether you choose to do so right when guests arrive with the party itself, or if you opt for something like a balloon box or a cake cutting.
How I Wonder What You Are Invitations
A perfect theme to accomplish an awesome gender reveal is "Twinkle Twinkle Little Star, How I Wonder What You Are?" This motif is brilliant and full of fun and special emotion that will be unforgettable for years to come. So, get your star shaped, glittery gold invitations sent out and be ready for a fantastic event!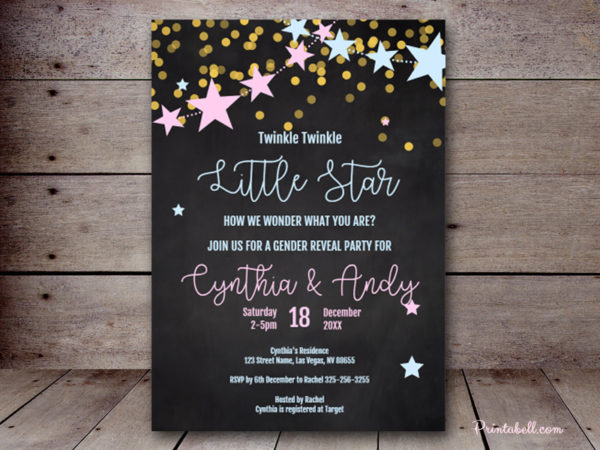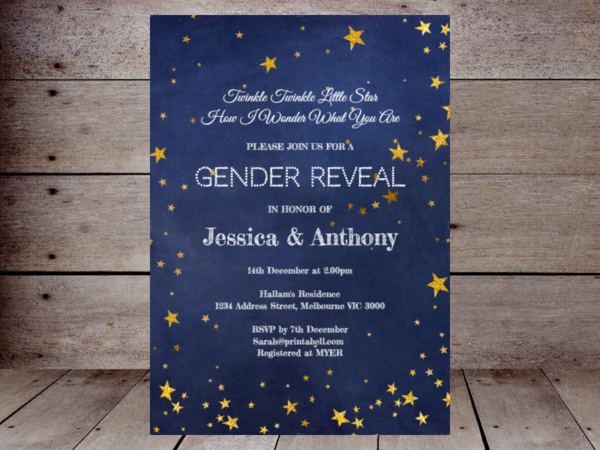 How I Wonder What You Are Decorations
Colored balloons and streamers in blues and pinks with gold or silver would be your basic decoration for this fun theme! Depending on how you are revealing the baby's gender, you may want to check out this large balloon labeled 'How I Wonder What You Are?"!
Some other decorations you can use to reveal are filling a box with pink or blue balloons to open and let float out for guests to see, or you can even fill balloons with pink or blue glitter stars to pop for a reveal. You can also incorporate a piñata as an activity and fill it with gender specific colored/labeled candies!
A large backdrop with congratulations to the parents-to-be along with color blocks dedicated to the message that says "Is it a Boy or a Girl!" is a fun way to keep the suspense. Incorporating sweet, dim lighting with glowing stars in white and in gender specific colors is also a cute idea, as the whole core of the theme is "Twinkle Twinkle Little Star".
You cannot have enough star decorations! Baby blue tablecloths with sheer, star covered runners and vases full of beautiful pale-hued peonies is a wonderful way to bring ambience and delicious scent to the party, too!
Diaper cake might be something else that you may want to have at the party, it makes a great gift for the parents-to-be after the shower with plenty of diapers within them!
Twinkle Twinkle Little Star Cake
The food for the event also works the same way as decorations, depending on how exactly you want to do the gender reveal.
Some of the more popular and fun ways to do a reveal are through the food! The most beloved way to do this is through the event cake. This is fabulous because you can create a multi-tiered cake in ombre night sky colors with sugar fondant stars and sugar glitter accents, complete with bouncing musical star toppers! Cut the cake to reveal blue or pink-dyed cake on the inside for the ultimate gender reveal that is both memorable and delicious!
Twinkle Twinkle Little Star Games & Favors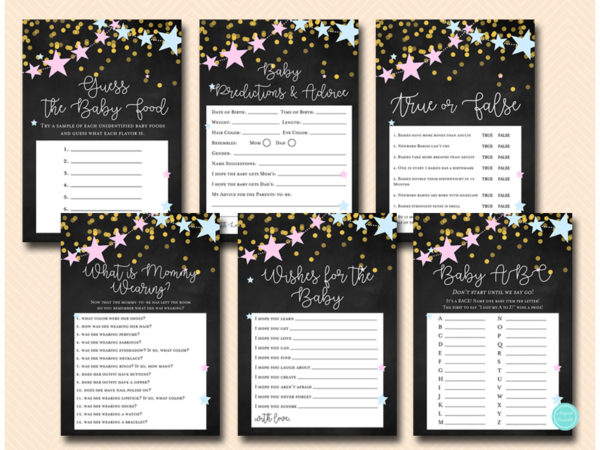 Of course, activities and games can range from classic baby bingo to mainly the gender reveal activity. Gourmet treats wrapped up in gender-specific colored bags and boxes are also great ideas for fantastic guest party favors—complete with twinkling star adornments!
How I Wonder What You are Gender Reveal Parties
Here are some incredible gender reveal parties by amazing planners. You can check out the party planner's name just below each image.