Breaking from traditional baby showers, this Vintage Victorian Baby Shower had a variety of lovely elements that made it unique and sweet. The mom-to-be was lucky enough to be expecting twins and wanted a fresh theme that would stand out from the crowd and party expert Mallory of The French Confection Co. created a stunning party for sure.
It was designed as a gender reveal party and since it had non-traditional colors for the theme there was definitely no giving away the secret until the special unveiling moment. Using the Haunted Mansion as inspiration, the venue was set up to have a magical and vintage style that looked fantastic. Tarnished gold and silver pieces were distributed throughout the area, creating a classic feel. Books and candle sticks were also used to create the vintage feeling, blending smoothly with the gold, silver, black, white, and cream colors. Some of the unique additions to the decor included a fantastic vintage pram that was filled up with lovely flowers, giving sweet effect. Another touch was a child's rocking chair that gave a bit of a fun, creepy element.
The dessert table was a vision of gothic beauty with all of the theme colors blended to perfection throughout the entire area. The backdrop was an interesting arrangement of vintage lace that set the tone for the entire room.  Candles hung in the center accenting a bold, black empty frame.  The table was draped with a lace color that added a touch of brightness.  With two gorgeously decorated cakes to choose from, guests were sure to leave full and happy.  A wonderful looking treat made for this occasion were chocolate and caramel covered apples that had brilliant detailing that stood front and center at the table.
Full list of Credits/ Vendors below the photos: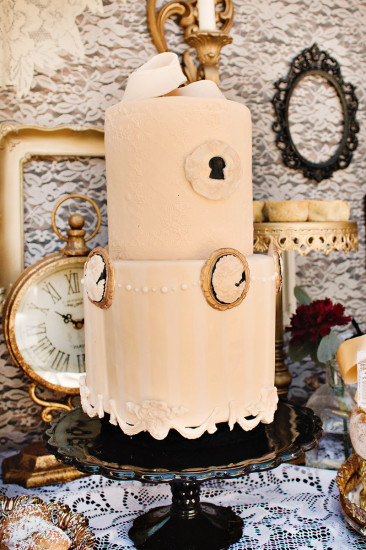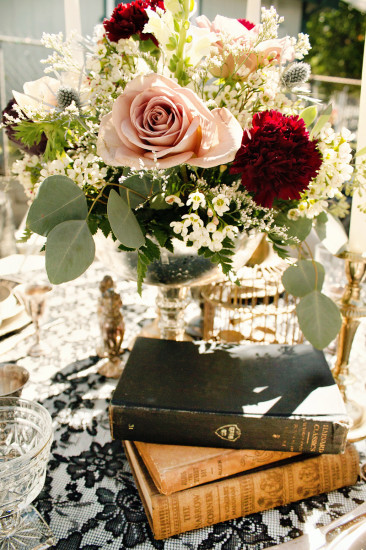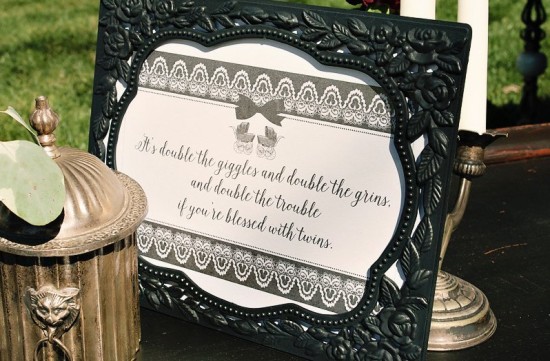 Credits –
Cakes, Desserts, Concept, Styling: The French Confection Co. / @thefrenchconfectionco
Photography: Silence of the Lens Photography / @silenceofthelens
Cake stands, compotes: Minted and Vintage / @mintedandvintage
Vintage couch, coffee table, patina arbor, black & gold side table: Circa Vintage Rentals /@circarentals
Graphic Design, printables: World Wide Party / @worldwideparty
Dining chairs, arm chairs, side table, vintage books: Sweet Salvage Rentals / @sweetsalvagerentals
Invitation printing: Polydot Printing / @polydotprinting
Gold candelabra, lace overlay, baby carriage, kids rocking chair: Sweet Jelly Parties / @sweetjellyparties
Florals: Love Anne Joy Design & Events / @loveannejoy
Place settings, tableware, brass/tarnished silver pieces: Borrowed Blu / @borrowedblu
– Chocolate and caramel apples: Sugar Studio / @sugarstudio31
– Fabric, tassel garland: A Petite Soiree
– Chocolate covered Oreos: Bella's Bakery & Bowtique / @bellabakery
– Small gold apple pedestals: The Glitter Shoppe / @theglittershop
MORE INSPIRATIONS