When a little girl is on her way to the world, a baby shower celebration is a must! What better way to throw a great party than to give it a fantastic theme—a bunny baby shower!
Bunnies are the cutest little creature, and creating this motif for your baby girl shower will send the mama-to-be, and her guests, over the moon!
Bunny Baby Shower Invitation
Whether you opt for baby pink bunnies on your invitations, or something simpler like a baby bunny on ivory stationary, get those sent out asap so that you can get to putting together the best little bunny baby shower.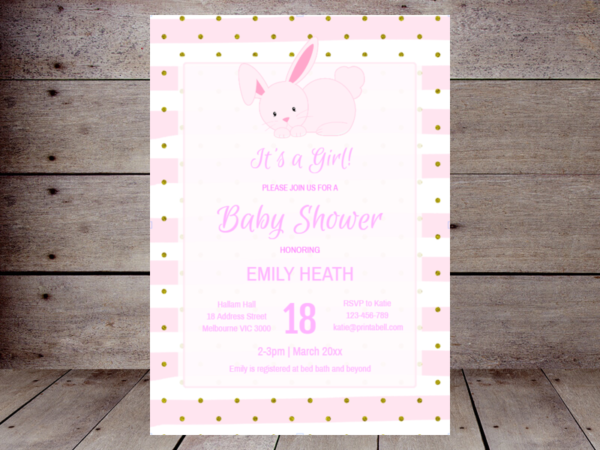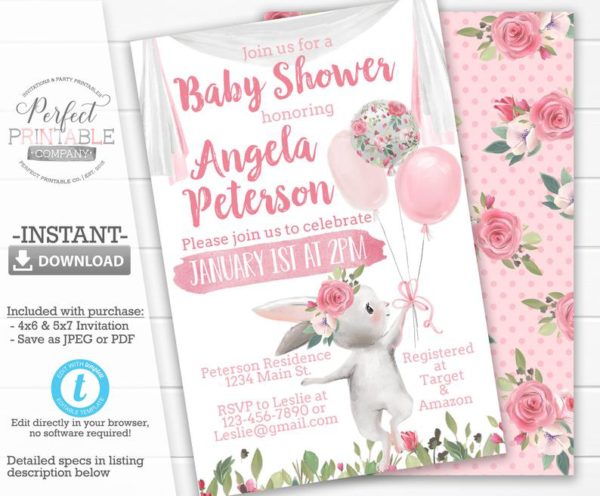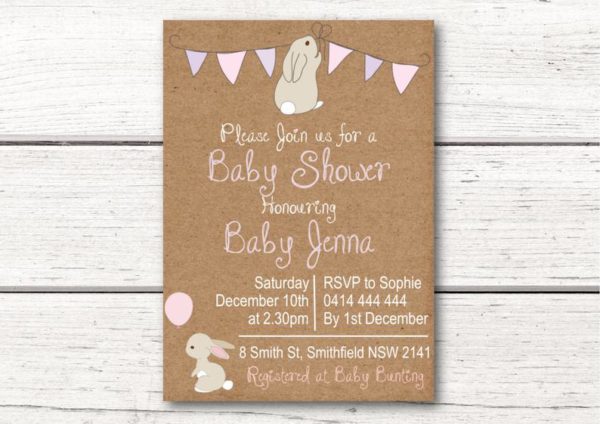 Bunny Baby Shower Decorations
Gather up all the best of children's bunny books, like The Velveteen Rabbit, Little Bunny Foo-Foo, Goodnight Moon, or Bunnicula, and place them around the party for guests to enjoy. Collect an assortment of mini stuffed bunnies to also use as accents, complete with little pink bows and lavender ribbons.
Bunny Baby Shower Centerpiece
Centerpieces of a single blush-hued rose in a glass jar paired with burlap table runners, and bowls of bunny sugar peeps for guests to snack on complete a perfect table look, while a main event cake in a simple pink ombre, fluffy frosting and a group of baby bunnies on top really serves as a awesome focal point for the party.
Bunny Baby Shower Backdrop
Purple and pink balloon arch behind the main table, bunny shape cutouts as garland, and fairy string lights set up the perfect atmosphere for a bunny baby shower.
DIY Decorations
You can paint mason jars with rose gold spray paint and utilize them as serving dishes for candy, raffle games, silverware holders, and much, much more.
A flag banner on backboard with the baby girl's name, along with drawings of little cartoon princess bunnies make for the perfect backdrop for a photobooth, or just to compliment the gift table.
Bunny Baby Shower Games
Make an activity for guests and the future mom with a teacup decorating extravaganza, with plenty of different colors of pink paint and bunny stamps and stencils.
Pin the tail on the bunny, baby bunny bingo, guess the sweet mess and bunny themed mad libs are also all great ideas for interactive baby shower games.
Bunny Baby Shower Food
For baby shower food, veggie trays and charceuterie boards go absolutely fabulous with the theme, while miniature red velvet cupcakes with candied bunny sprinkles are delectable to devour.
Keep in mind when preparing a charceuterie board, to not include any soft cheese or cold cured meats such as salami and chorizo unless if mommy-to-be is okay to have them there for the guests.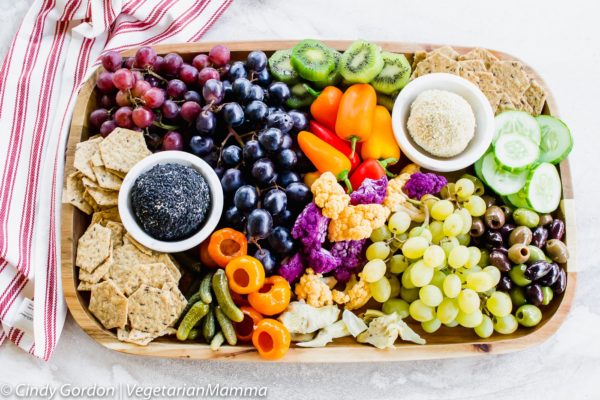 Bunny Baby Shower Favors
For favors, you can send guests home with little colorful baskets filled with gourmet cookies, bunny shaped soaps, and a garden tulip mini planting kit!