This Winter Wonderland themed baby shower was magically arranged by Bee-unike Events. The party decor most definitely transferred guests to an enchanted winter wonderland.
The desert table featured delicately decorated snowflake cookies. Just like real snowflakes, each cookie had its own unique, magical shape. A midnight blue tiered cake sat at the center of the table. The cake was elegantly decorated with snowflakes and crystal jewels. Two beautifully arranged sconces filled with white flowers sat at either end of the table.
The background of the main table featured a true winter wonderland. A cloth backdrop was draped behind the desert table and included a winter scene that might only be scene in a fairy tale. Surrounding the back drop were twisted branches garnished with silver roses.
A small glass side table featured several tiered candle sconces and winter creatures. The table sat on top of a snowy white area rug. Near the side table was also a large white chair, which added just the right touch of coziness to the winter theme.
A small birch tree included twinkling lights that would be found in an enchanted forest. The branches on the tree were decorated with flickering candles which added a warm atmosphere to a generally cold theme.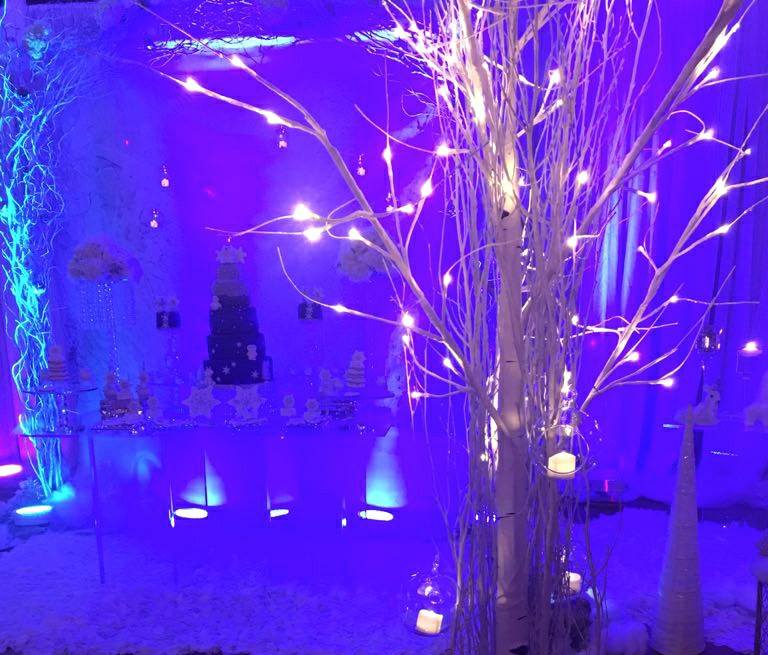 MORE INSPIRATIONS