A Mickey Mouse themed baby shower is a fun idea for any mom expecting a little boy. As a staple of childhood, this is a nostalgic way to celebrate and will be something your guests will remember for years to come. Mickey Mouse is an embodiment of the happiness and joy that a newborn represents, and this can really come across in the atmosphere of your event. So, get those mouse shaped invitations out in the mail to get everyone excited as you plan your event.
Mickey Mouse Baby Shower Invites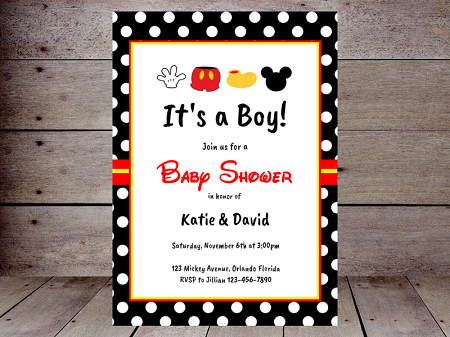 Mickey Mouse Baby Shower Decors
You can incorporate so many colors into your Mickey Mouse themed baby shower, but the main hues you should stick with are reds, whites, and blacks. These are Mickey's signature colors that are instantly recognizable, and other accent shades like blues, greens, and yellows will mix splendidly with them. Decorations should be aplenty, as you'll want to turn your space into a miniature Disneyworld. Red balloons that form a shape of Mickey Mouse's head, or a ceiling completely full and lined with black and white polka dot balloons are perfect for this elaboration. Streamers in blue and red and garland in the shape of a dancing Mickey Mouse look great along walls. Just remember, for this theme, you really can never have enough decorations! Corresponding red tablecloths with Mickey images and glass vases filled with buttons and sunflowers are amazing centerpieces. If possible, have a diaper cake in the shape of Mickey's head as well, and this will be a one-of-a-kind feature to the party.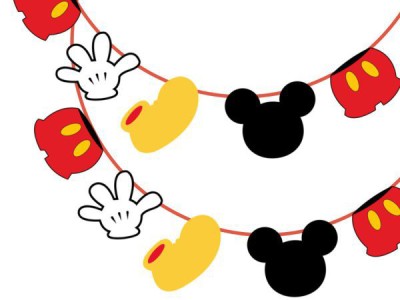 Mickey Mouse Baby Shower Food
As if your decorations won't be breathtaking enough, onto the food! For the main cake, you can opt for a shaped cake of Mickey Mouse, or you could go with a double tiered cake with lots of Mickey Mouse embellishments, such as fondant figures and big toppers and sparkler candles. Cakepops with the red and black Mickey button suspender designs are super cute, while fruit cups with whipped cream and Mickey sprinkles are a healthy, yet equally adorable sweet fare. Big lollipops, red velvet cupcakes, jars of colorful candies, and Oreos that form Mickey heads are all great additions to the sweet table. You can have just as much creative fun with salty food as well, and it's a good idea to stick with "park like" food, such as hot dogs, pigs in a blanket, sliders, and cheese plates. You can set up Mickey Mouse shaped pretzels or crackers for an extra touch of theme as well. Baby versions of food and of Mickey Mouse images in general really tie in the baby shower celebration with the motif.
Mickey Mouse Favors & Games
Party favors for a Mickey Mouse baby shower can range from all sorts of treats to actual items like photo frames, tumbler cups, or personalized keychains. You can mix favors with activities as well, by having fun competition-type shower games in which guests are awarded prizes. Baby Bingo, Disney themed Catch Phrase or Charades, and Pin the Ears on Mickey are all interactive games that offer a healthy dose of competition and engagement for everyone at the baby shower.
MORE INSPIRATIONS: