With an array of lovely details and fabulous colors, this Pink Jungle Safari Baby Shower was put together by the Bottle Pop Party Company.  The color blend of soft pink and lime green really created a complementary setting for the party to be celebrated at.
The dessert table was definitely one-of-a-kind, decorated completely from top to bottom while still allowing for easy access to all of the lovely edibles. The backdrop was pure innovation, with a fun wild patterned green and white fabric that was surrounded by a fantastic sheer cloth and covered across the front with a celebration banner in soft pink and white that really stood out beautifully.
The table was covered in a fun lime green cover and lined with a bright pink patterned runner, offering a visual treat that was sure to be appreciated. The treats were all done in the fun theme colors and had personalized labels to envelope the safari party completely.
There were even an array of lovely jungle animals set up to add to the wild party atmosphere. From cupcakes with delicious looking chocolate frosting to rice krispie treats set up on fun sticks, there was something for everyone to enjoy tasting.
As a fun touch, a table was set up with a fun patterned table cloth and a wonderful framed sign that said "watering hole," for the guests to enjoy a beverage. The water bottles had personalized labels, letting them join in on the themed excitement.
Even the take home gifts were unique and fantastic, bags with personalized tags saying, "Thanks for coming, it was wild" and tied with rope for closure.
This celebration of life was definitely one to remember, with the bold patterns and fun colors. There was something set up for everyone to enjoy, ensuring fun for all.
Credits –
Printables:  Swish Printables
Styling:  Bottle Pop Party Company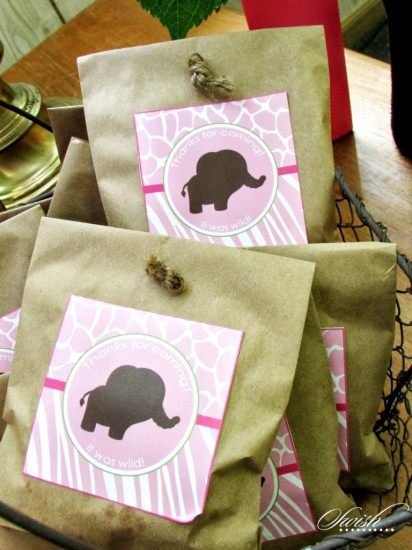 MORE INSPIRATIONS: