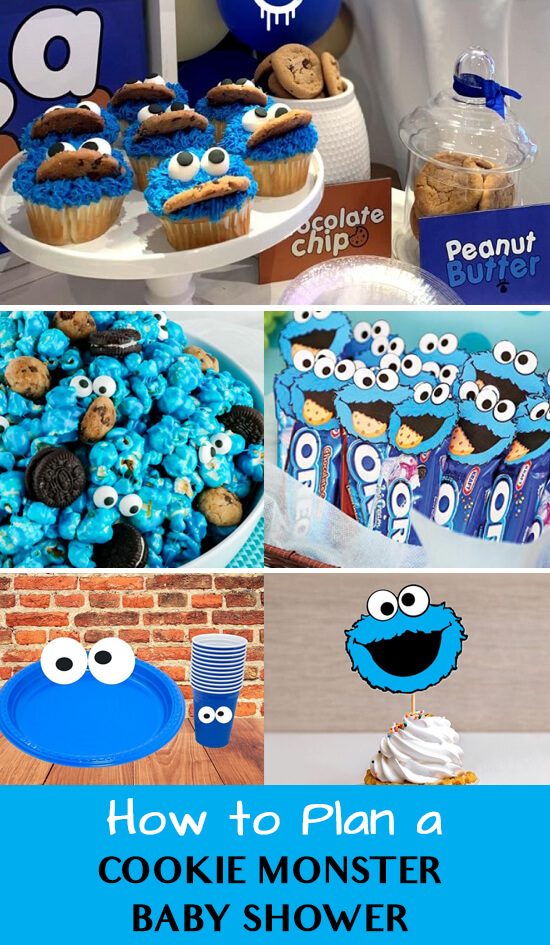 Who doesn't love cookie monster from sesame street? The eternal love for cookies will make both children and adults fall in love with the theme and enjoy the party to the fullest.
This is your right pick if you are looking for the most adorable and affordable baby shower party. You won't have to purchase expensive accessories and supplies to make it a fun party. The theme itself with plenty of delicious cookies would be enough to bring smiles to everyone's face!
Cookie Monster Baby Shower Invitations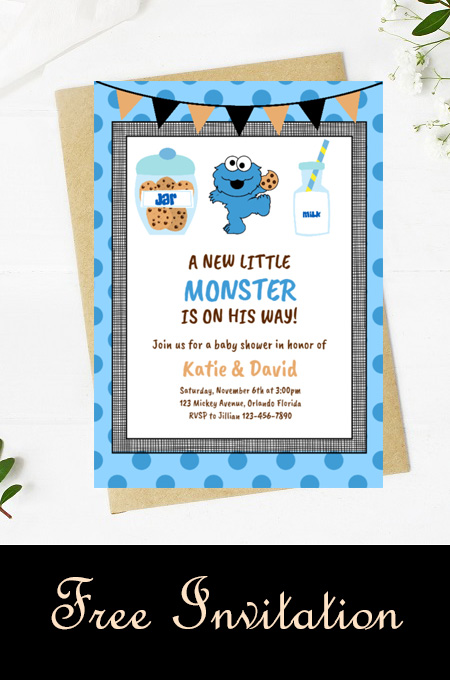 Cookie Monster Theme Table Setup
For the sit-down style event, you would need to prepare tables for the guests. You could prepare Cookie Monster name cards, blue plates, cutleries, and cups. A cookie patterned mat would also adorn the table. You can find Kraft paper rolls at fun365.orientaltrading (click on image below) to make your very own Cookie mat!
Neatly place an individually wrapped cookie on the plate along with a glass of milk for both adults and children. Everyone will enjoy taking a sip of joy and bites of a cookie whilst they mingle with each other of memories of their past.
Cookie Monster Dessert Table Backdrop
The background of the dessert table could be a balloon arch in blue, white, gold, and black. A large poster with the saying "There's a cookie in the oven!" will complete the background! The dessert table could also have arrangements of some fresh flowers such as Baby's-breath.
Treats for the table could include cupcakes that are made to look just like the cookie monster. You should also have various flavored cookies displayed creatively on the table. Chocolate Chip Cookies, Peanut Butter Cookies, M&M Cookies, Snickerdoodle, and Peanut Butter Cookies are some great ideas.
Cookie Monster Popcorn would also be a fun and delicious addition to the treat table! Find the perfect recipe at two sisters crafting. With mini cookies and googly monster eyes, you'll have your guests gazing at them in awe!
DIY Cookie Monster Decorations
For an easy DIY decoration, you could try making cookie monsters out of paper! With blue sheets and googly eyes, you can create your very own cookie monsters of all sizes. Bear in mind that you can actually find googly eyes as large as 7″ on Amazon. So, you could make a giant cookie monster for the background of the main table!
Add toothpicks to the smaller Cookie Monsters so you can use them as toppers for cupcakes. Hole punch or make a small hole and thread the string through the hole for use as favor tags. A larger one could be used as a table centerpiece by placing it within the flower arrangement.
Of course, you could go for an easier path by using google to find images of cookie monster and print them out on white cardstock paper. Cut the images out for an easy-breezy ready to go decoration!
By the way, googly eyes are not essential, especially if you are planning a budget baby shower. You could easily create its eyes using white and black paper. Basically, you just need to know how to cut them in a circle, easy? You could add these paper eyes to blue plates and paper cups for the ultimate Cookie Monster party!
You could also try making your own simple ABC blocks out of paper. Instead of "ABC", you could spell out the name of the baby if known already. This would truly become a centerpiece of the party!
Cookie Monster Baby Shower Cake
A simple cake idea would be a chocolate cake with a Cookie Monster topper. This Cookie Monster topper could be the one you've made out of blue cardstock paper with googly eyes. If you are purchasing a cake, then you can go all out with whatever creativity you have in mind!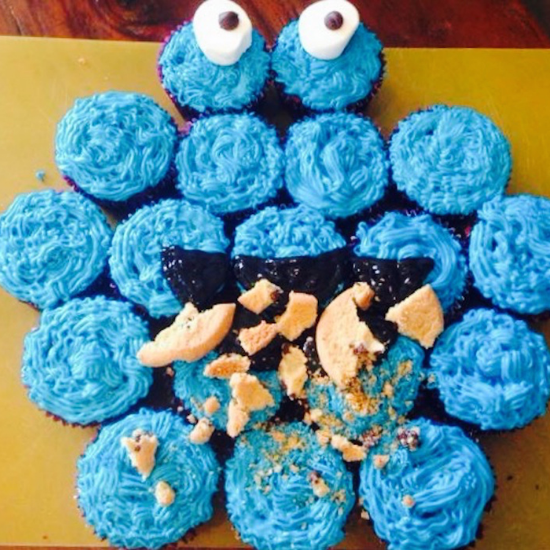 Cookie Monster Theme Centerpiece Ideas
The table centerpiece is the heart of the whole party, and you may require quite a few of them depending on how many guest tables you have. Centerpieces don't need to be the same for every table. Here are some ideas.
Tall glass filled with cookies, flower arrangement with baby Cookie Monster cutout place in it, a Cookie Monster diaper cake, ABC blocks in blue and white, or just simply a Cookie Monster stuffed toy holding a balloon!
Cookie Monster Costume Headband
This simple disguise from Amazon for the mommy-to-be would look totally adorable! This will ensure all the attention is drawn to her!
Cookie Monster Baby Shower Favors
Edible favor idea would be the very obvious, Chocolate Chip cookies in clear cellophane bag with a cute Cookie Monster bag topper. If you feel you've used enough of cookies for the day, you could hand out these adorable Cookie Monster chip bags! Non-edible favor idea would to purchase cookie cutters, then tie a blue ribbon along with your favorite cookie recipe.
Free Cookie Monster Thank You Tags
You can use these free Cookie Monster thank you printables as tags or stickers. Print them on adhesive paper for use as stickers. The file comes in both circle and square shapes ready to be downloaded and printed instantly.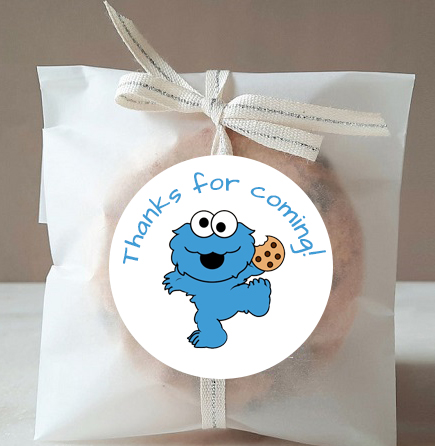 Cookie Monster Baby Shower Games
You can convert any of your favorite games into the cookie themed saga. But what will be a cookie monster theme party be like without cookie eating game? You can gather cookie-eating contenders to win the real cookie monster title at the party.
Place one large cookie and a glass of milk before every contender, the person who finishes eating and drinking wins the title! Every player will enjoy the game and the party to the bone. For the spectators, laughter and joy will be the real treat.
Guess How Many Cookies are in the Jar
Have everyone guess how many cookies are in the jar! The closest to the actual number wins the game.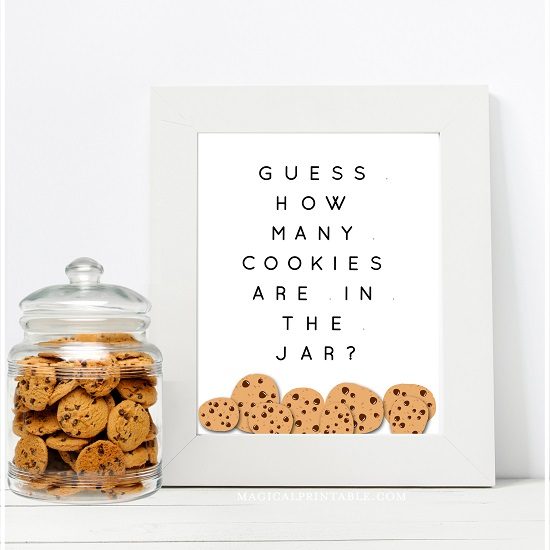 Face the Cookie Minute to Win it!
This game would work well for coed baby shower parties so that mom-to-be can sit and relax or even be the judge of the game! Each person is given a cookie. An OREO wors. Each player places the cookie on their forehead and has to get it into their mouth without using their hands. The winner gets it done first in one minute or closest to their mouth. If the cookie is dropped, you must start from the beginning.
Cookie Monster Baby Shower Parties
Check out these amazing Cookie Monster themed baby shower parties by talented event planners and bakers! Find their detail below the image! Enjoy and get inspired!