This gender-neutral baby shower was photographed by Naomi, who really showcased the beauty and detailing precisely. With a yellow, grey and white color palette, this baby shower had a wonderful blend that helped create an elegant and unique style.
The invitations were adorable with Bun in the Oven as the bold statement to bring guests to the party.  Using a deep gray and vibrant yellow, this invitation was very well-done.
The dessert table at this party took a simplistic approach, using a minimal spread to entice guests to try out the goodies. With a fantastic banner as the backdrop and gigantic tissue poms, the area around the table had a warm atmosphere that was very inviting. The table with the desserts was covered in a lovely yellow and white cloth that brought a dramatic touch.
The treats themselves were phenomenal, each detailed to match the theme spectacularly. There were truffles cover in white chocolate that had grey and yellow strips on a simple white tray that looked very yummy. The cupcakes went right along with the theme with bold yellow and gray frosting that made them look scrumptious. These were set on a tiered-tray making each one easily accessible. The cake was a vision of delight with white frosting topped with detailing in the theme colors and had a gorgeous array of flowers strung across the top.
Another adorable edible decoration was a spread of flower sugar cookies that appeared to be filling a jar that was also a sugar cookie, on an elegant white tray.  With sugar cookies on the glasses with straw-holes, this party was full of innovation and fun.  This celebration was sure to impress with all the little touches that brought everything together to create memories that mom-to-be would cherish forever.
Credits –
Event Planning & Photography - Naomi Chokr Photography
Cake & Desserts: The Short Giraffe Mini Confections and Catering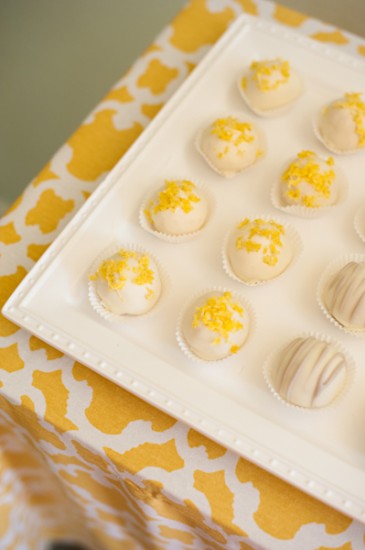 MORE INSPIRATIONS: