Chocolate bark makes an appearance at almost every holiday. It is welcomed as a Christmas gift and often put into Easter baskets. It is the most clever and delightful during the Halloween season. Ordinary chocolate bark can be easily transformed into the perfect Halloween treat.
Adorable and tasty, this Halloween themed "Boo Bark" is sure to be a hit at your Halloween gathering this year. The decorating is so easy that even the kids will be able to join in on the fun! Feel free to customize your treat by adding your favorite candies to the top. It such an easy recipe and is the perfect snack to munch on with friends during the spooky season.
These delicious treats are topped with chocolate and all the candy you can imagine. The candy eyes make this treat the perfect companion for a scary movie marathon. A rich chocolate flavor makes this treat something your tastebuds will love. Add some color to your next Halloween party with a dessert that your guests will love!
Ingredients
1 Block (200 g) white chocolate
Food coloring (Yellow + orange)
M&M's
Sprinkles
Candy eyes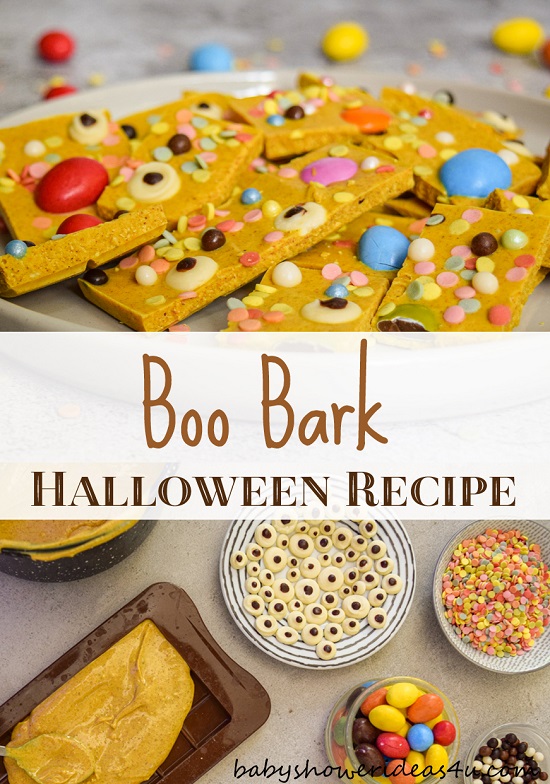 Instructions
Step 1.
Melt the chocolate in a double boiler.
Step 2.
Add the food coloring and stir well.
Step 3.
Pour into chocolate molds or over a lined cookie sheet. Spread well.
Step 4.
Top with sprinkles, candy eyes and M&M's.
Step 5.
Put in the refrigerator and chill for at least half an hour.
Step 6.
Break into pieces and enjoy!