What an exciting time is the first birthday for your little boy! You want it to be a very special and unique party that everyone will remember. There are so many themes you can choose from for the little prince's birthday.
Thomas the Train 1st Birthday
Most little ones, boys and girls alike, love Thomas the Train. Thomas is a British cartoon that is all about the adventures Thomas and his friends on the Island of Sodor. A birthday party can be easily themed around Thomas. If you are adventurous, you can bake and decorate your own train to look like Thomas, or your toddler's favorite of the trains on Sodor. You can always order the train cake from a bakery. Don't forget an extra smaller cake for the birthday boy to dive into. Make the party room look like a train station, using cardboard to make a train engine that the children can play and/or sit in to have their pictures made.
Provide engineer hats for all of the little guests. You can make things yourself or you can find tons of party supplies for a Thomas themed party at my shop. Send home little Thomas bags with party favors suitable for toddlers.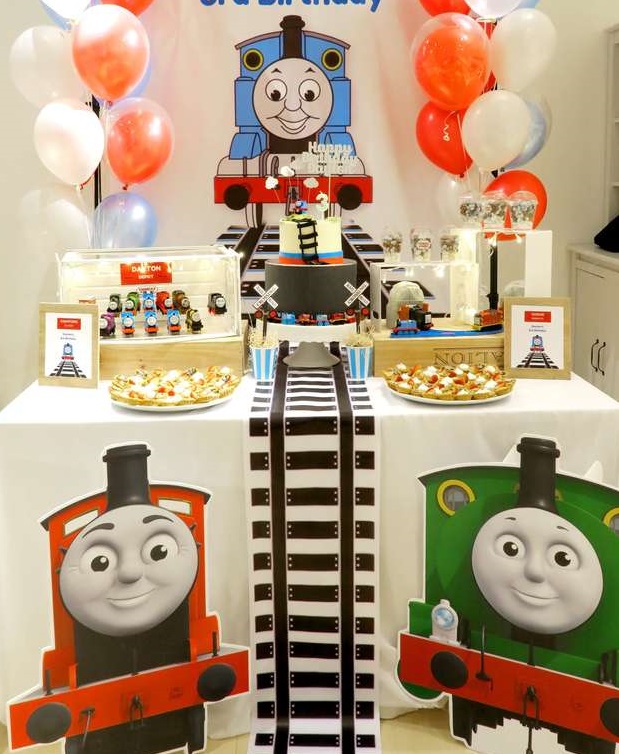 Rainbow 1st Birthday Party
Throw your one year old little boy a rainbow birthday party, with all of the colors of the rainbows. Bake a white cake with different colored stripes of fondant around the cake. Provide a small plastic swimming pool with the bright colored soft balls that are used in ball jumps. Little party guests will love to sit and play in the balls. They will most likely also love throwing them around, but no worries. At least they are soft. Blow up lots of bright colored balloons and attach them, along with brightly colored streamers to the accent wall behind the cake and gift table.
Circus 1st Birthday Party
All kids love the circus and this Big Top Circus themed party will be a big hit with kids and adults alike. The cake will look like a big top circus tent, taking the center ring of the table. You can also have cupcakes decorated with red, white and blue and sprinkle sparkles on them so that they look somewhat like snow cones.
Take pictures of your son from 1 month old to 12 months and glue each picture on a different colored straw. Use 12 small popcorn boxes, placing the pictures in the box, and pour peanuts still in the shell around the straw to keep the pictures standing upright. On each box make a cute sign that tells the age of your son in each picture.  With large and small popcorn boxes you can fill them up with snacks and flowers. Place some pretty flowers in the large boxes to set on each side of the cake. Arrange the smaller boxes in a circle around the large boxes. Decorate a wall with background for games, hanging prizes with clothespins or thumbtacks. Prepare small boxes of animal cookies so that each little guest will have a box to take home.
These are just a few ideas for your birthday boy's first birthday. Be creative and amazed at the wonderful party you can create on your own. Have a blast with your party.