With the innovative skills of ADAL Kreation, this Glamorous Baby Love Shower was a perfect blend of bold color and soft decor. Using black and gold to add contrast to the light pink and white colors, the ambiance at this event was pure elegance.
The dessert table was laid out in stunning fashion with a simple backdrop on a white paneled wall. Pink and white fabric was used to create a curtain effect and the words, "baby love" were placed artfully in the center. A fabulous pink cover layered in golden circles made a sweet base for the goodies on top. On each side of the table at the back large black vases were filled to the brim with pastel blooms.
The desserts were quite decadent, rice krispy treats were frosted in pink and ornately detailed in gold and accented with tiny black bows. Placed on white trays, they had an elegant and delicious look. Lovely white plates held cookies decorated in various shapes from mirrors to tiny dresses. Cake pops had a simple and lovely look frosted in white with adorable black bows and golden sticks. Tasty cupcakes were set in golden wraps on a tiered tray.
Tall pink candles added a sweet, soft lighting to the table too. They stood on each side of the three layer cake, making a lovely accent. The cake was marvelously decorated in pink, gold, black and white details. It was placed on a tall cake tray, making it a fantastic centerpiece to the dessert table.
A wonderful and unique decoration added to the table included hat boxes on each end of the table in black and white. On top of them tiny clear chairs held tasty treats, giving a neat effect. At the front of the table an adorable carriage advertised the theme sweetly.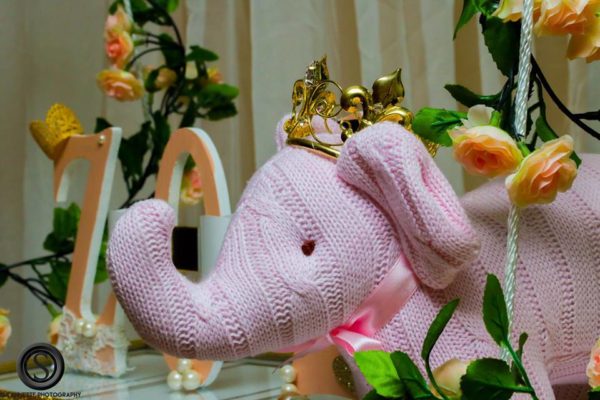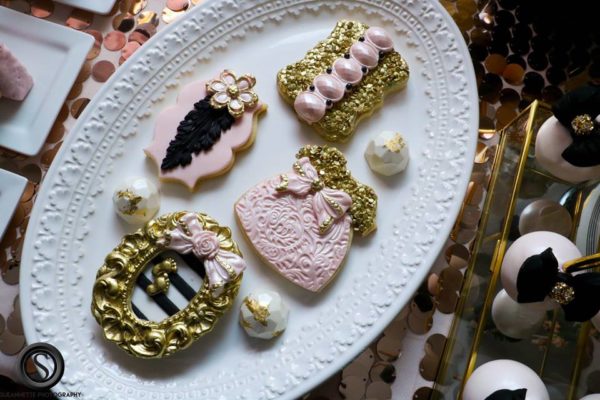 Credits –
Cake, RKT & Cheesecake shotter: Geidy Vilomar
Ruiz Cookies & Cake pops:  @Madgelinescakes
Wooden Backdrop by Ten23 Designs Flowers: @huntspointsflowers
Custom sprinkle: Oh you're so fancy
Event design and stylist, name plaque, centerpieces: ADAL Kreation/Danisa Betances
MORE INSPIRATIONS: