If you're looking to plan a Minnie Mouse themed baby shower, there are a plethora of decor options for every budget. A Minnie Mouse themed baby shower is an adorable way to welcome a new baby girl! The mom-to-be will love the pink decor that can be incorporated into the nursery. Keep reading to find ideas for planning a budget Minnie Mouse baby shower!
Minnie Mouse Baby Shower Invitations
If you're feeling crafty, consider making your own invitations. You might use phrases such as "we're tickled pink," or "a little mouse is on her way." These invitations from A Happy Mom are cute and easy to create. The invites use simple supplies that you likely already have in your house. It's the perfect craft for the family to get involved in baby shower planning.
If you're short on time, you might consider using these adorable Minnie Mouse invitations from DREAM PARTY invites. They will personalize it for you and you can choose from a digital file or printed ones!
Minnie Mouse Baby Shower Decorations
Decorations are essential to every party. You're sure to find the perfect decorations for your party even if you're on a budget. You can even find a variety of free Minnie Mouse baby shower printables. This decor set from Magical Printable has everything you need to make your party gorgeous and it is free to print.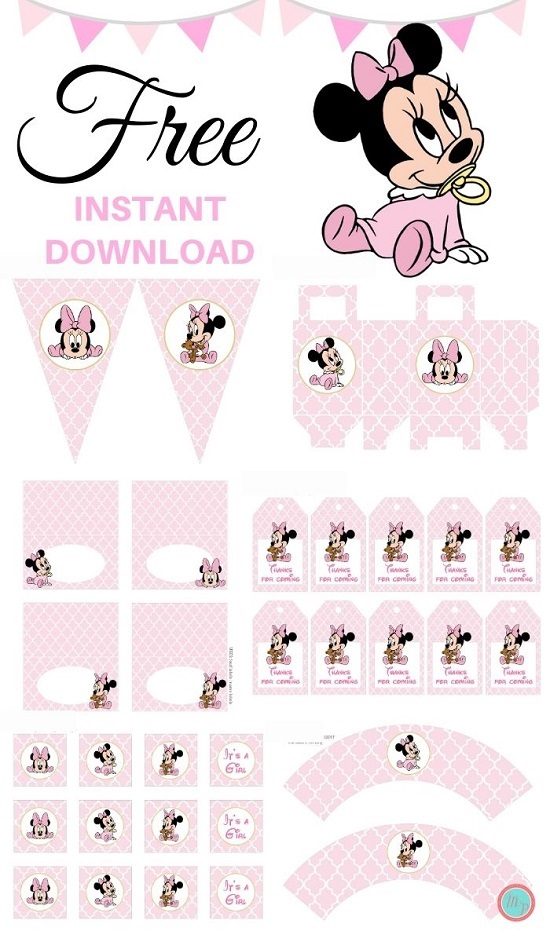 If you prefer to have something that is ready to hang up, there are plenty of options available. Consider using a combination of pink, white, and black balloons to create an arch above the dessert table.
If you're feeling crafty, you can even make your balloons into the shape of Minnie Mouse. You can find a variety of themed decorations such as cupcake toppers, plates, and napkins at most local party stores.
Centerpieces are also a must for any party. If you're on a budget and have the time you can make a decorative centerpiece from simple supplies that can be found at any craft supply store. Simply Being Abby features step-by-step instructions to your Minnie Mouse centerpiece decorations.
If you're in a pinch and need something quick, these hand crafted paper cutout Minnie Mouse centerpieces might be something you'd like to try making. You can even customize the pieces to be specific for your party. Your guests will love the bright pop of pink against the black.
Minnie Mouse Baby Shower Favors
Snacks and edible treats are a popular baby shower favor! Serve your snacks in style with these adorable popcorn cups from Divine Glitters. The cups could hold popcorn, candy, or any other treat for guests to take home.
If you would rather give something for your guests to keep as a remembrance of the special day Minnie Mouse ears are a great option! They are not only adorable but also make for a great photo opportunity. You can find mouse ears for your Minnie Mouse party on a budget on Amazon.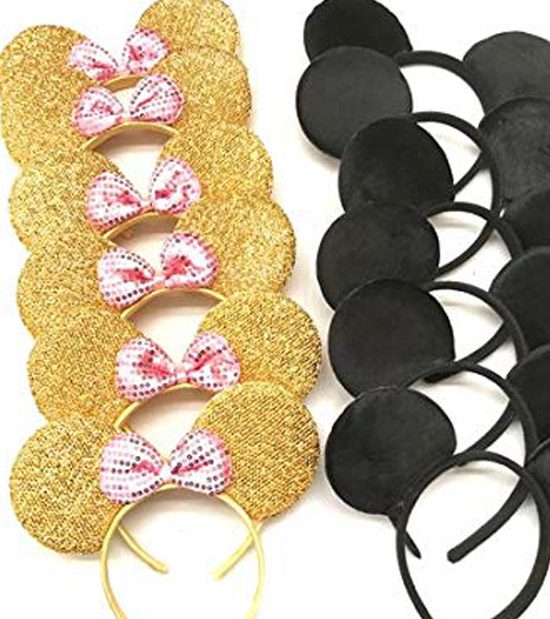 If you're gifting multiple favors, you'll likely want to package your favors to fit with the theme. These Minnie Mouse party favor bags from Cuadra Creations will make any party favor look fabulous! Fill them with tasty treats or small gifts for your guests to enjoy.
Minnie Mouse Baby Shower Games
Games can help keep your party guests entertained while waiting for everyone to arrive. This package of games from MyBabyShowerDesigns features sweet Minnie Mouse characters that are perfect to keep guests both young and old interested.
You might also consider incorporating classic party games such as guess the baby food or guess the baby. If you're on a tight budget, these games can be played with limited supplies.
No matter how you decorate your party, guests will adore your adorable Minnie Mouse theme. With decor options for every budget that are easy to find, a Minnie Mouse-themed party is perfect to celebrate a new baby girl.