If you love all the colors of the rainbow or you just can quite seem to pick the right color scheme, a rainbow baby shower might be a great theme for your party! A rainbow baby shower allows you be creative by adding pops of bright colors throughout the party. It would be the perfect theme for a potential future artist! There are hundreds of decorations available for a rainbow themed baby shower! Below are just a few ideas to help you get started!
Rainbow Themed Cupcakes Toppers
If you're having a rainbow themed baby shower, it's essential that your cake or cupcakes have color! Add the color easily with these rainbow baby shower cake toppers. The toppers are sold in sets of twelve and measure approximately four inches tall including the wooden stick. Each topper is hand assembled and includes and image of a baby romper. 
Hot Air Balloon Garland
Decorate any wall or door in your home with this rainbow themed hot air balloon garland! This garland is sure to be a show stopper no matter where you hang it! The set not only includes the bright colored hot air balloons, but also four beautiful, white clouds. Each strand of garland measures approximately four feet tall. If the picture is not the exact combination of colors you have in mind for your party, you can custom order to get the colors of your choice.
Rainbow Party Straws
Every party needs beverages to keep the guests hydrated! Your guests can sip their beverages in style with these bright colored rainbow party straws. The straws are sold in sets of ten, however, if you're having a larger party, you can order multiple sets at a time. These straws would look lovely displayed in an empty mason jar.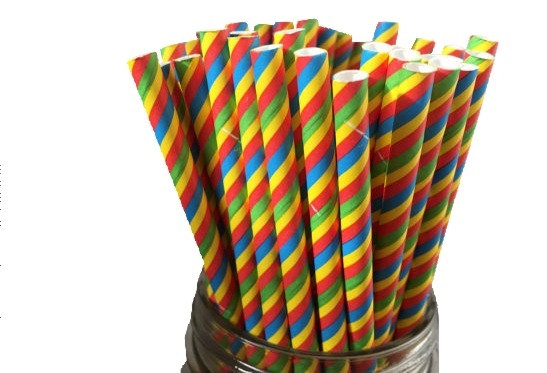 Rainbow Cake Pops
If you're looking for a sweet treat other than cupcakes or cake, these cake pops will be the perfect addition to your party! The cake pops are handcrafted and sold in sets of twelve. These particular cake pops are created with vanilla cake and white chocolate drizzle, but you can create a custom order. Each cake pop comes individually wrapped in a cellophane bag, so you won't need to worry about packaging.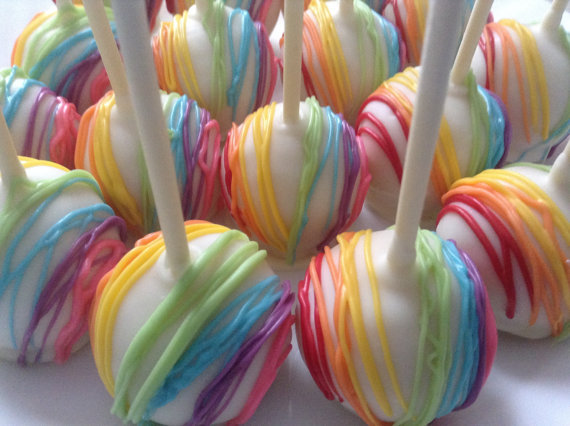 Rainbow Themed Party Tags
Party favors are essential to any great party! Make your party favors pop with these bright colored rainbow themed party favor gift tags. The tags in the picture read "thank you," but you can customize the tags with the text of your choice. You have the option to order the tags with or without holes or ribbon. Each tag measure approximately two and a half inches in diameter. These gift tags would make a wonderful addition to a treat box or lollipop.