This lovely Safari Adventure Baby Shower was infused with all sorts of glamorous details that made it a memorable celebration for a special mom-to-be. With the sweet stylings of My Little Angel Decorations, this party was sure to be a total success.
The venue chosen for the event was quite large, allowing for plenty of space to keep the guests comfortable.  With several round tables set up for them to sit at, visiting while enjoying some snacks was simple to do.  Each table was covered in a mint green cover that blended beautifully with the white, gold and blue of the other decor. The chairs each had a white cover that was wrapped with a matching mint green band to create an elegant effect. Centerpieces for these tables were stunning vintage style birdcages painted white and filled with lovely blue flower arrangements. Golden animals were placed beside each to promote the Safari theme gorgeously.  These were set on a sparkling golden runner that stood out boldly.
The dessert table had an entire cover that matched the sparkling gold of the guest table runners.  Behind the table, sheer green and white fabric were draped in front of strands of lights to give a soft illumination. A wonderful vintage mirror framed in gold made a perfect backdrop for the table.  Right in front of this mirror, a four-tiered cake stood in stunning perfection, each layer detailed with precision to look safari like.  It had a golden giraffe standing right on top too. To accent the cake, on each side, massive bouquets of pretty white flowers were placed in golden vases and set on stands to make them even taller.  Other tasty treats displayed on this table included personalized, wrapped chocolate bars that were actually placed on an upright stand.  There were also adorably detailed sugar cookies to enjoy.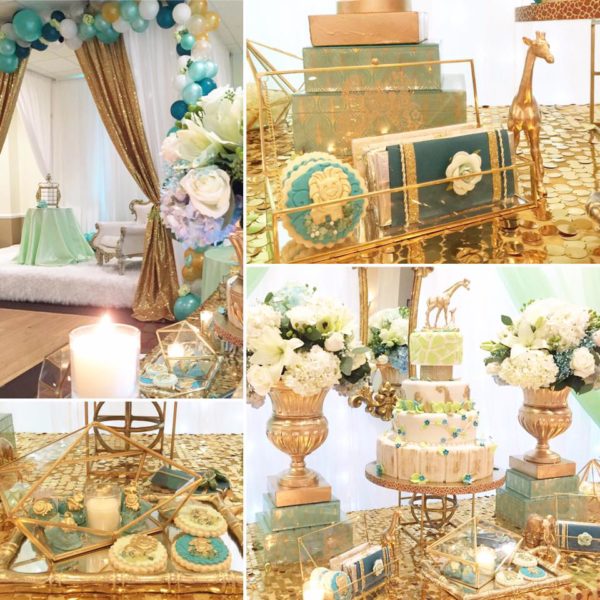 Credits:
Elite cake design by Edwin Jemas Sweet