Elegant Paris Damask | Shabby Chic Baby Shower Theme Ideas: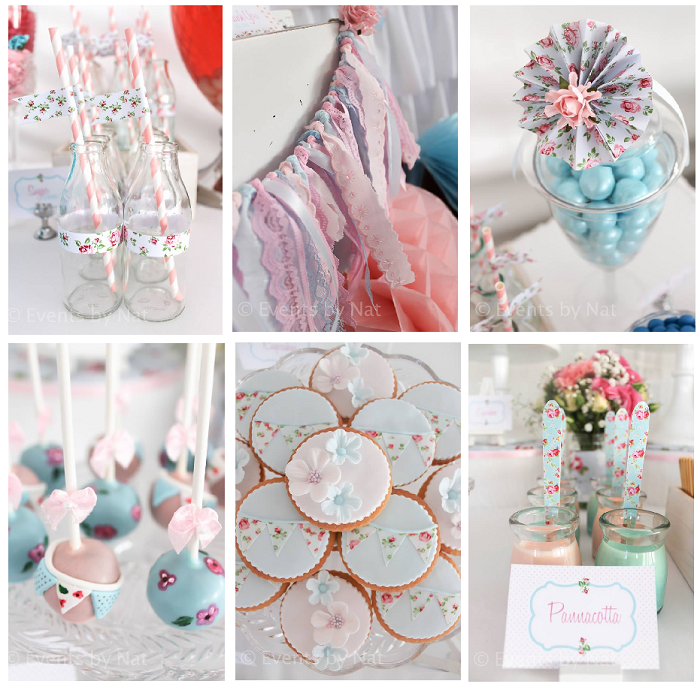 credit to Nat at Events By Nat
Baby, Baby – such Style, so Chic!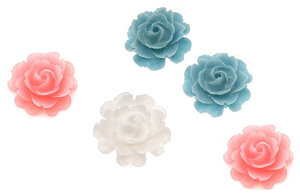 BCBG = Bon chic, bon genre, generally translated as 'good style, good class' insinuating she is so elegant, so sophisticated as a lifestyle and now she is stylishly expecting, you will want your plans for her Baby Shower to reflect her great taste.
Wow! There are so many small details to think about when planning for a Chic Baby Shower such as color themes, maybe a more formal menu, a beautiful cake and cute little presents to give as party favors.  Let's chat through some ideas.
Is mom-to-be someone who shops a lot? If she likes Chanel, Dior, or  Louis Vuitton, the baby shower theme could be based on Paris. Perhaps the invitations could include an outline of a sophisticated mom-to-be with brand logo or lots of branded shopping bags from the Mall. Most invitations can be sent by email, but it's always specially so chic to buy elegantly embossed and printed invitations and to deliver them personally, if you can, so that they can be treasured and become the start of a chronology of baby's life.
If you prefer a shabby or rustic chic look for the mommy-to-be – slightly more traditional and quirky – then your invitations and shower plans could reflect her style equally well if you add seasonal touches, such as summer flowers or winter scenes from your part of the country. White and pink baby's breath flower and pale pink roses are the most popular flowers associated with shabby chic theme.  Using doily, lacy, burlap materials and baker twines may also help you create that rustic invitations. Also perfect to use them for decorations throughout the baby shower party room.
Chic Baby Shower Decoration Ideas
If you know whether her new arrival will be a girl or a boy, then choosing your color theme will be much easier or you may want to keep to neutral colors to keep everyone guessing and there are plenty of wonderful tints, such as cream, peach or aquamarine with splashes of sophisticated prints or stronger colors to consider.  Try to keep to just two or three colors for the room decorations and your menu – The Baby Shower will be more memorable and will have friends and relatives who are yet to become moms wondering how to throw an elegant and chic event like yours.
A giant doily flower decoration by Sara Z via youtube
Easy to make shabby chic rose cake by LorisBakery via youtube
How to decorate sugar cookies on flood consistency royal icing by SweetAmbsCookies via youtube
Chic Baby Shower Food Ideas
In keeping with your chic color-theme, your menu should be elegant but simple and that could mean offering your guests a variety of small and dainty goodies that are healthy but slightly decadent.  Cut up plenty of  fresh fruit and vegetables and use as crudités with a selection of dips.  Macaroons could fit the bill perfectly as you can order them in gorgeous colors and they look wonderful either on their own or built up as a cake.  There are so many fabulously sophisticated cocktails (alcoholic and non) that, again, will fit in with your color-theme and can be made for both those who don't want to include alcohol and those who do.  You may want to consult your favorite Mixologist for a very special cocktail for this very special occasion.
Chic Baby Shower Game Ideas
A sophisticated chic hostess will plan stylish games – Mom-to-be is  preparing to take delivery of a small bundle of love and cuddles so why not ask the stork to join her baby shower and deliver prettily wrapped boxes that could each contain just a few letters – Scrabble-style tiles or paper cut outs of the letters, for instance.  Once everyone has opened their box, each guest has to match up their letters with other guests' letters to make words that are connected to her new arrival.  This is a lovely game to get everyone talking with each other. You could have two teams to make it more fun and a little competition is always fun.

Chic Baby Shower Favor Ideas
You could also ask the stork to help you with providing tiny gifts as party favors to thank the guests as they leave and, of course, beautifully crafted chocolates will always be well received.  Simply put one or two chocolate treats in each guest's box. If you are wanting to do something crafty, how about a handmade shabby chic lace flowers! You'll need to gather up few types of laces with different colors. Follow the video on how to make one by selectionsbyER via Youtube.
Enjoy the Shower – She can be Chic and her baby can be Chic too!
.

Baby Shower Tableware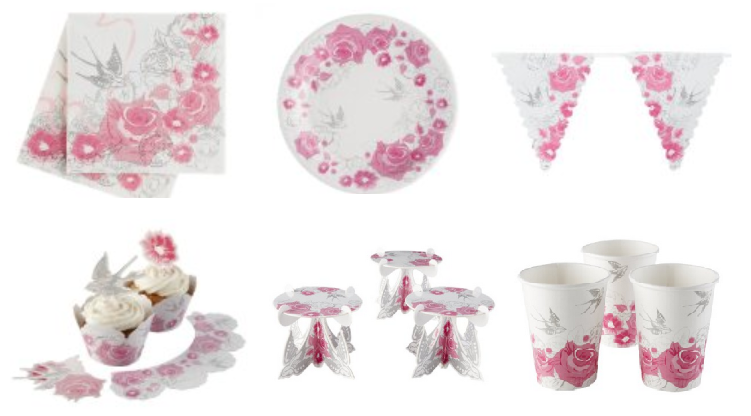 FREE Shabby Chic Themed Baby Mad Libs Game
FREE Printable Shabby Chic A4 Paper
Using template of cupcake wrapper, circle topper, flag topper, bottle label you can create shabby chic themed printables using these patterned paper.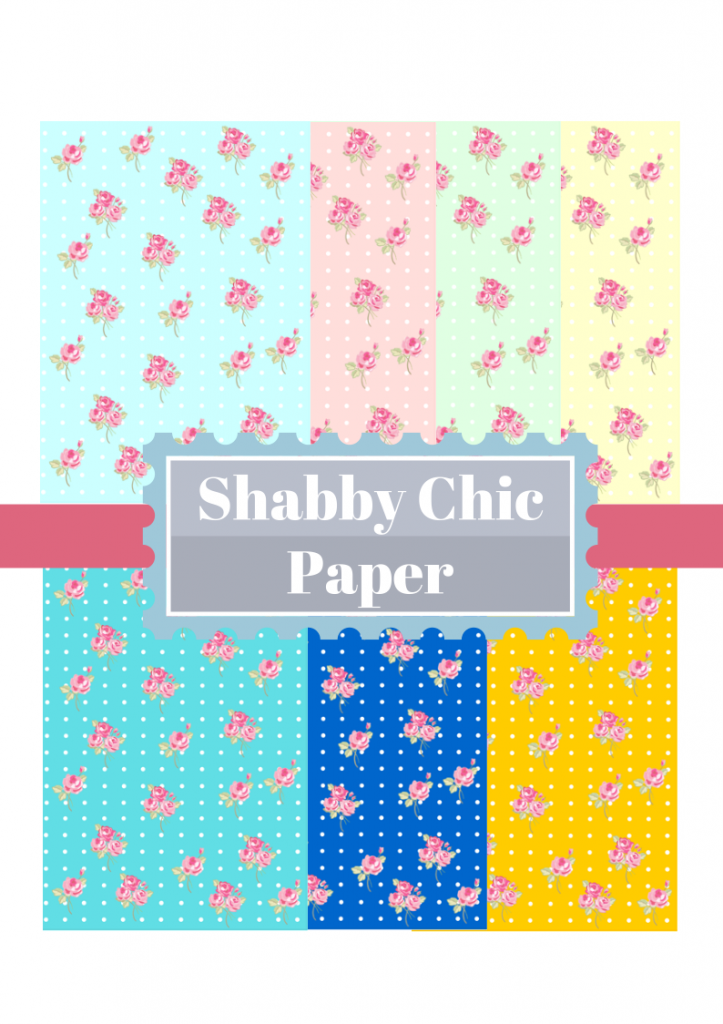 Damask / Shabby Chic Baby Shower Decorations
Damask paper lantern, pink balloons. Eiffel tower confetti for a handmade invitations or table decorations and the pink Eiffel tower centerpiece, available in black too.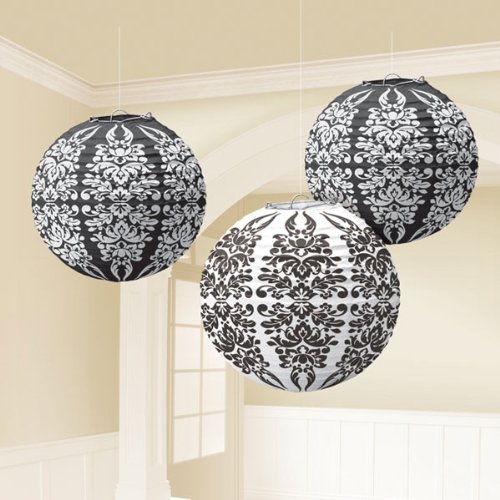 Follow My Mess Baby Shower Chic Theme Inspirations on Pinterest