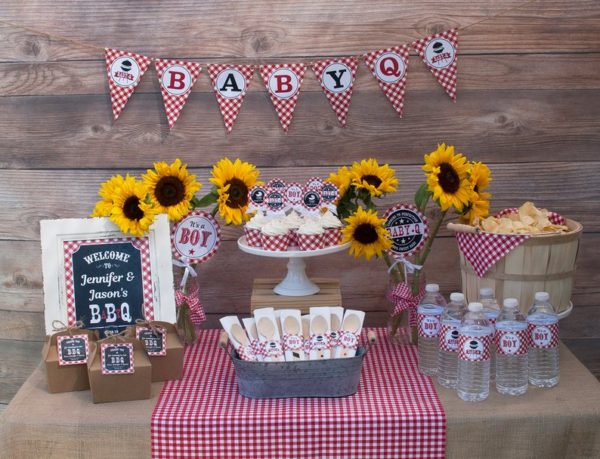 Who says only mommy to be's get to celebrate their upcoming bundle of joy with a baby shower? Daddy to be's are equally just as excited to share the celebration with their buddies—and what better way to do that than to throw a Daddy BABY-Q shower? Nothing sounds more fun than good treats, beer, party games, and of course, plenty of yummy grilling. Get all the guys ready because a BABY-Q shower is just what a proud papa needs!
Invitations
Decorations
The backyard on a sunny day is the perfect set up for a daddy's baby shower because this is where he will put his grilling skills to good use. Decorations can be simple and cool, with just enough personality for daddy and all his friends to enjoy. Blue or Pink for girl balloons with orange streamers and banners that spout congratulatory words for the baby to be can be put up just about anywhere, and classic red and white checkered table cloths with folding chairs are comfortable and nostalgic. A gift table should be set up for the party, as for a daddy's BABY-Q shower, the guests may bring big packs of diapers. Instead of centerpieces of flowers, opt for tin buckets with specialty bottled beer and sodas on ice in the center of every table for easy grab and go. Be sure to have twist off caps or bottle openers handy, and don't forget a bucket for the bottle caps. Place neon colored sunglasses at each place setting, along with matching plates, silverware, and napkins. Lay out notecards that guests can fill out with "Dad" advice for the daddy to be, which is sure to be something memorable forever.
Food Ideas
Food is of the utmost importance for the shower, so start with the basic grilling fares—hamburgers, hotdogs, brats, and chicken. Vegetables like asparagus, corn on the cob, and peppers are all amazing for grilling and flavoring as well. Have a "Daddy" apron ready for the father to be to wear as he grills the food for the guests. Tables of salty snacks such as cheesy dips, chips, salsa, pretzels, and nuts are perfect for the guys to snack on as they mingle, and for the grilled main course, a table for condiments and all the fixings is a must, too. Desserts should surround the party cake, which should be fun and festive, such as a cake in the shape of a diaper tower, or even one with the sugar fondant accents of grill tools. Other treats should be equally unique, like a s'more station. Cupcakes with lawn mower toppers, mason jars full of an array of colorful candies, cookies that replicate hamburgers, and a hollowed out watermelon filled with refreshing fruit are all easy and delicious to eat.
Games & Activities
Baby shower games for a daddy baby shower can be loads of fun and full of energy, so think about outdoor games that mix well with baby themes. For instance, set up a table for a game like "Blindfold Diaper Changing" or "Diaper Tool Belt" and see who can race to get done with their project the fastest. Award prizes for the winners such as a grill tool set or a grill master apron. Other great backyard games are corn hole, horseshoes, ring toss, and even field day type games like sack races and touch football.
Favors
Favors for the guests can also be extremely special and can put a smile on the guests' faces. Think personalized barware, coasters, bottle openers, or even an assortment of grill accessories such as tools, seasonings, rugs, and caddies. Make sure to snap lots of photos, too, because a daddy BABY-Q is a once in a lifetime kind of day.
MORE INSPIRATIONS: