There is no doubt that a newborn baby is adorable, so what better way to celebrate a new life than with an adorable theme? A ladybug themed baby shower is a sure way to make a great impression at your party. The black and red color scheme makes it the perfect party theme for a baby boy or girl. In addition, there are a plethora of decorations and party favors available. Below are a few ideas to help you get started decorating for a ladybug themed baby shower.
Ladybug Diaper Cake
A diaper cake makes a great centerpiece for any table and also makes a great gift for an expecting mom. This diaper cake is not only adorned with ladybugs, but also includes fifty-five usable diapers, an adorable headband, polka-dotted ruffle socks, travel sized baby care products, and a pair of infant booties. The cake measures about sixteen inches tall, which makes it the perfect height to standout amongst other party decorations. The usefulness of this diaper cake will be valued long after the baby shower is over. If desired, you can even request the cake to be made in different colors.
Mom to be Corsage
At any baby shower, the mom to be is most likely the star of the show. Give the mom to be the attention that she deserves with a ladybug themed corsage. This corsage is made with a variety of red, black, and white ribbon. If desired, the corsage can be ordered in different colors to fit the theme. As a bonus, you can even order a matching corsage for dad, grandma, or auntie to be. What a great way to honor such special party guests!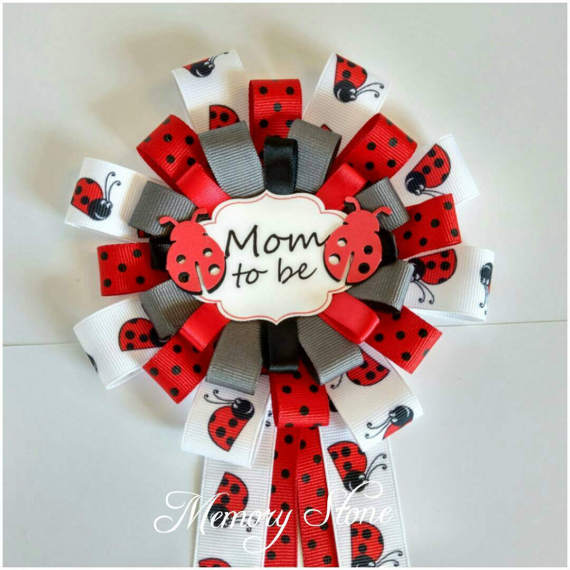 Ladybug Banner
For a ladybug themed party, it's important that ladybugs appear everywhere. Decorate any room or even outdoors with this ladybug themed party banner. This banner can be easily hung on walls, fences, or even a photo backdrop. If desired, you can even purchase matching cupcake toppers to add a little extra bling to your ordinary cupcakes.
Ladybug Wall Art
This piece will give your guests something to talk about and makes the perfect decoration for a ladybug themed nursery. This party decoration is made from hand-painted tiles and is built to last. Wouldn't this make a precious keepsake for when your new baby is older? Each decoration includes your future baby's name and two decorative ladybug tiles. The tiles hang on a wooden rack by sturdy cream colored ribbon. The name and colors of the piece can both be customized depending on your needs.
Ladybug Lip Balm
Party favors are a must have! This lip balm is packaged in style and can be personalized for your baby shower. The party favors are sold in sets of ten. You even have the option to choose the flavor of lip balm. Your guests will love this useful gift and it's a great way for everyone to remember a special day.