Baby Shower Cake Ideas for Twins:

Having twins is like a miracle. It is rare for two eggs to be fertilized or for one egg to slip. Something so rare should be celebrated big! Coming up with baby shower ideas can be difficult. One great way to add a fun element is to use the cake!
The cake is the one element of the party that can be made into anything that you want it to be.  So have a little fun with it. You can have a twin themed cake. Three most popular twin themed cakes are Noah's arc, two peas in a pod and Thing 1 Thing 2. You could have a baker draw a pea pod with two smiling peas with "two peas in a pod" written on it. You could go with a drawing of two bassinets facing each other if you wanted to.  These are ideas for the simpler sheet cakes with writing or drawings on the top. For a slightly fancier cake option would be by using fondants or cake toppers.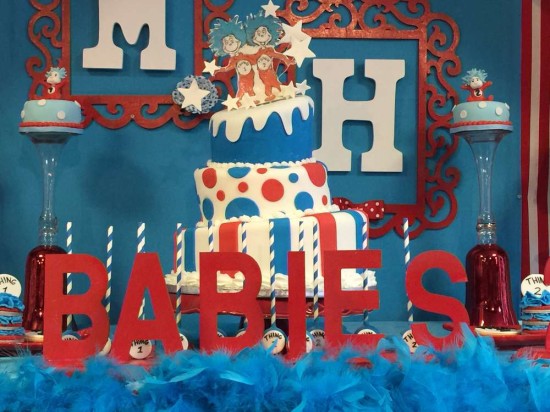 You can get very creative with the cake by using fondants. You could have two baby rattles, booties, or little diapered bottoms and baby feet coming out of the cake. If you know the genders, you could even color their diapers to match them. You could go a little further if they already picked their names out by writing the name on their little diapers. There are so many cute and fun ideas that you could try!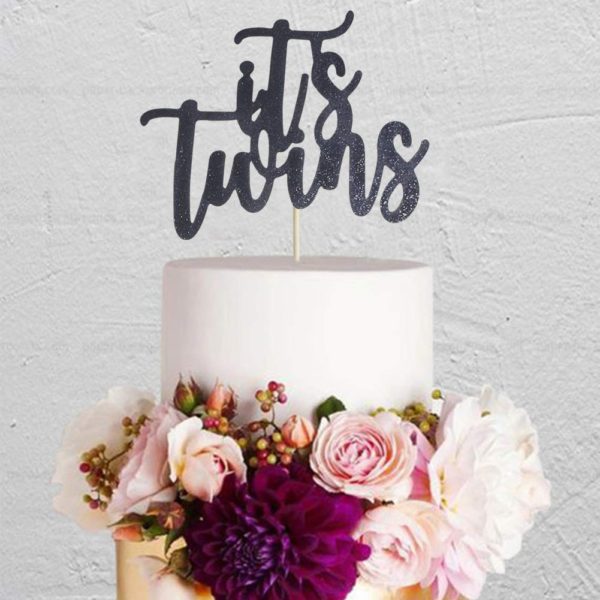 You could have two different cakes, one representing each baby. They could be shaped like bassinets or have two cakes that look like little onesies, even two cakes shaped like a baby. There are really endless possibilities for cakes. Bakers can make almost anything you can think of. There was even one set of cakes shaped like baby foot prints in almost a yin yang shape, so they fit together, one for each baby, but never separate. That is a perfect idea for identical twin babies.
You can have tiered baby shower cakes, round or square, with a baby name on each tier, and you can put sleeping babies on the top. If you don't know the names only the gender of the babies than you can do the same thing with one blue tear and one pink or both blue or both pink, depending on what she is having. You could top a cake with baby shoes made of fondant in the proper colors. Another idea would be to have a tiered cake, maybe 3, and have vines drawn all over the sides in green leading to the top. At the top, you can put a pea pod with either babies or smiling peas in it.
Depending on how much you have to spend on the cake itself there really is no limit to the fun you can have. Make sure to customize it to the information you have about the babies and the mother. You want her to love this cake and know that you did it all for her so make sure to be creative and keep her taste in mind.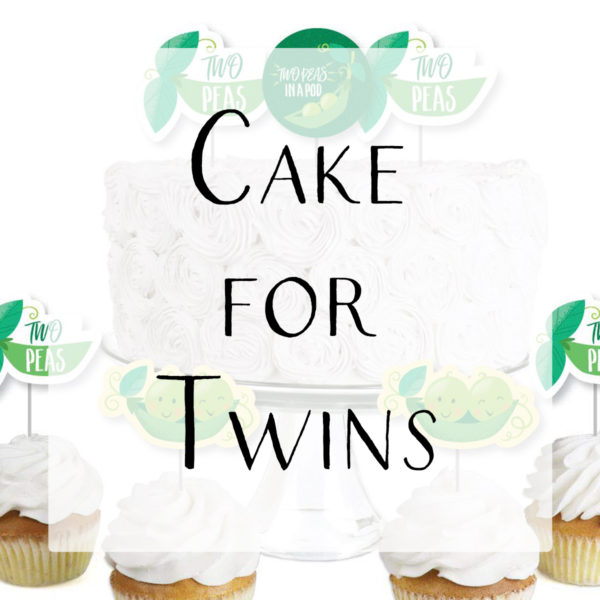 Follow My Mess's board Baby Shower Cake for Twins on Pinterest.