Modern Royal Baby Shower Ideas!
Celebrate the birth of a little princess or prince with a royal baby shower. This regal, fun baby shower theme is excellent for the sophisticated couple and for women everywhere to channel their inner ''Cinderella'' .You lovely ladies can have a tea party and play dress-up in fluffy dresses. Leave your worries out the door for a few hours with a ballroom-enchanted dance for the mother to-be and make her feel like a queen.
Royal Baby Shower Invitations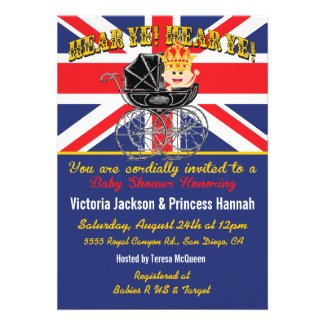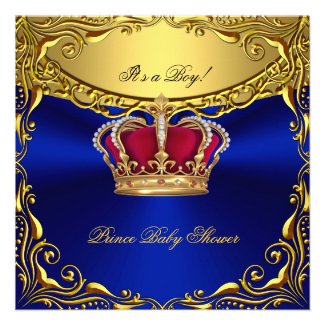 Royal Baby Shower Games | Activities
Get all girlfriends, nieces, aunts, cousins, and sisters together with a ''guess the prince'' or royal female names game. You can find a list of Royal Princess names at nameberry, here. Ask everyone to name as many Royal Princess names starting with 'A' or any letter you like. For the guess the Prince, have a list of Princess names on one side and ask the guests to name their Prince.





Here is another game. Make a handmade crown to fit around the mommy-to-be's belly assuring her  that her baby is the fairest of them all !  Have the crown sparkly and painted with gold and some markers or even paint it then tape it together with clear tape or even a glue stick . Remember to measure around her belly first . Ask guest princesses and queens  to take a guess of the measurements to make it more fun.
Royal Baby Shower Decoration
Decorate the area like an enchanted castle. Include lots of Victorian-like furniture to give that royal feeling and have a special chair for the queen (mommy to be) and king (daddy to be). You can also add a nice chandelier if you like. Beige and  fair tones are most best. Have  ruffled curtains and maybe go out and purchase symphony music  and adapt a British accent for fun! Hang up portraits  of the queen and or anything you like and have  nice statues. You can also  have a red carpet going down the middle of the room directing to the queens thrown  just to make her feel special ! Wearing pearls would complete her look as well. Change your lighting to a more brighter light or even open up your windows.
Have long  tables and cover them with a reddish, maybe burgundy dark color or even have some pretty tea pot sets. Fill them with your favorite tea or orange juice for the little princesses. Throw in a few tea cakes for a snack . Use gold or silver plates-set your dinner table like its a Thanksgiving dinner! Have a matching colored tablecloth and serve the food on metal platters. Finish it off by accentuating the dinner table with flowers around the platters and there you go!
Royal Baby Shower Printable
Royal Baby Shower Food
Finger food is best for a royal baby shower: Cheeses, sliced meats, vegetables and chocolate or jello water fountain for your deserts. As a beverage, for the little ones serve orange juice and apple juice and for the adults a little wine or tea .What's a regal dinner without a beautiful cake? Such a nice dinner calls for a layered cake like an Italian crème cake with a vanilla frosting. Place a little princess on top to give it a cute little accessory. Make sure the cake is in the middle of the table so everyone can admire the cake.
And the royal baby shower gift bags be filled with one decorative Chinese fan, or a beautifully decorated tiara cupcakes or cookies! That completes the perfect baby shower the highness!
Royal Baby Shower Favors