If you are expecting a baby in summer time and is dreaming of warm days at the beach with your feet beneath the sand, then summer themed baby shower might be for you! A summer themed baby shower makes it easy to incorporate bright, warm colors. You can have a simple summer theme using bright yellows and oranges in your decor or a more elaborate summer in a beach theme or a beautiful summer surrounded by sunflowers! Either way, it will bring positive thoughts to you and your guests and make the event memorable! So, get ready to break out the sunglasses and shorts because there is a baby shower to plan! Below are a few ideas to get you started! 
Sunshine Balloon
When we think of the best days of summer, we often think of warm sunshine. Bring some sunshine to your party with this sunshine balloon. The balloon will be shipped flat to you so if desired, it can be filled with helium at your local party store for a small fee. You can have the option to inflate it yourself with air, however, if you choose this option, it will not float. This balloon would be the perfect addition to a photo back drop!
Warm Colored Tassels
These warm colored tassels will add just the right touch of color to your summer themed baby shower. Colors of the tassels include: bright orange, lemon, gold mylar, buttercup, goldenrod, tangerine, orange, pumpkin, and mandarin. You can request custom colors to match your party decor.
Pineapple Straws
Nothing says summer quite like pineapples and a cold beverage. These white and gold pineapple straws will instantly transport your guests to a tropical island. The straws are sold in sets of ten and are sturdy enough to withstand your icy cold drinks for hours. These straws are standard sized drinking straws, so they will work for most cups.
Watermelon Soap
Watermelon is a classic summer treat, so why not give your guests watermelon soap as baby shower favors? These soaps are made with natural goats milk and glycerin soaps. Poppy seeds serve as the watermelon seeds. As a bonus, the soaps also smell delicious enough to eat! The soaps are sold individually, so it is easy to order the perfect number for your party guests.
Sunflower Paper Flowers
These Sunflower backdrop decorations are made from tissue paper and are a perfect addition to transform the party room into summer vibe. They could also be used as centerpieces for the guest tables. The flowers are sold in sets of different sizes.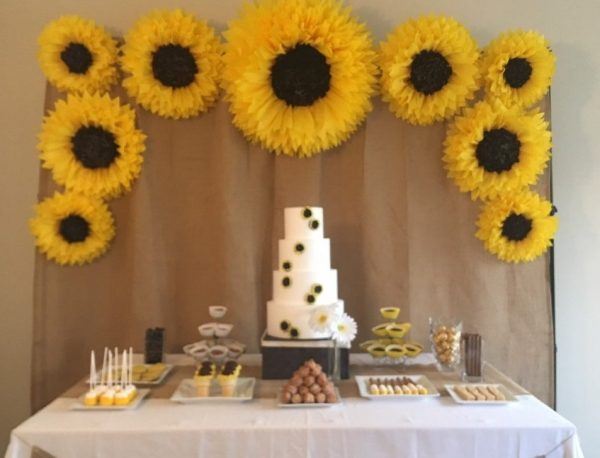 Summer Food And Drink Ideas
There's probably no better time to have a baby shower than in summer! The weather is warm and guests are excited to spoil you and your baby with gifts and great company. Summer baby showers are also great because of the food! You'll be able to serve refreshing drinks and delicious healthy foods that are perfect for the weather.
Here are some great summer baby shower food and drink ideas that guests will adore:
Ice Cream Sundae Bar
Ice cream and summer always go together and it would be a fun idea to add a sundae bar at your shower. Get tubs of various flavors of ice cream, put them on ice and then let guests create their own sundaes with various toppings.
It's the perfect way for guests to indulge in their sweet tooth and to cool off with the warmer weather.
Sparkling Cherry Limeade
A sparkling cherry limeade beverage combines lime, sparkling water, limeade, cherry juice, limes and margarita salt to create this satisfying summer drink that can stay a mocktail for the soon-to-be-momma or an alcoholic beverage by just added vodka! Either way, it's a refreshing drink for all in attendance!
Caprese Sandwich
Offering Caprese Sandwiches provides your guests with a simple, yet light, sandwich that's easy to create. You just need ciabatta bread or a French baguette to start, then layer on fresh tomatoes, basil and mozzarella. Top it
all off with a balsamic glaze and some salt and pepper. You'll definitely have guests coming back for more!
Cucumber-Mint Water
Cucumber is always a go-to summer treat so offering guests a cucumber-mint water will satisfy their thirst at your summer baby shower. You'll need cucumber, lime, mint and water. If you want to make it sweater, you can
always use tonic or turn it into an alcoholic beverage by adding vodka.
Individual Salads In Jars
Create individual salads in jars and set out a few different dressings so guests can choose their own preference. To make the salads in jars, you simply layer the ingredients. You can use regular lettuce, baby spinach or kale or even all three! Add in halved cherry tomatoes, thinly sliced cucumbers, cooked chicken or salad shrimp and quinoa (which goes way at the bottom). Add in the ingredients one-by-one and then top with lettuce. Guests can add their
dressings and then shake up the jar to enjoy their salad.