If you are dreaming of warm days at the beach with your feet beneath the sand, then a summer themed baby shower could be the perfect theme for your party! A summer themed baby shower makes it easy to incorporate bright, warm colors. Bright yellows and oranges will bring positive thoughts to you and your guests, which makes the theme colors perfect for a baby shower. Get ready to break out the sunglasses and shorts because there is a baby shower to plan! Below are a few ideas to get you started! 
Sunshine Balloon
When we think of the best days of summer, we often think of warm sunshine. Bring some sunshine to your party with this sunshine balloon. The balloon measures approximately twenty-four inches long and will be shipped flat to you. If desired, it can be filled with helium at your local party store for a small fee. You can have the option to inflate it yourself with air, however, if you choose this option, it will not float. This balloon would be the perfect addition to a photo back drop!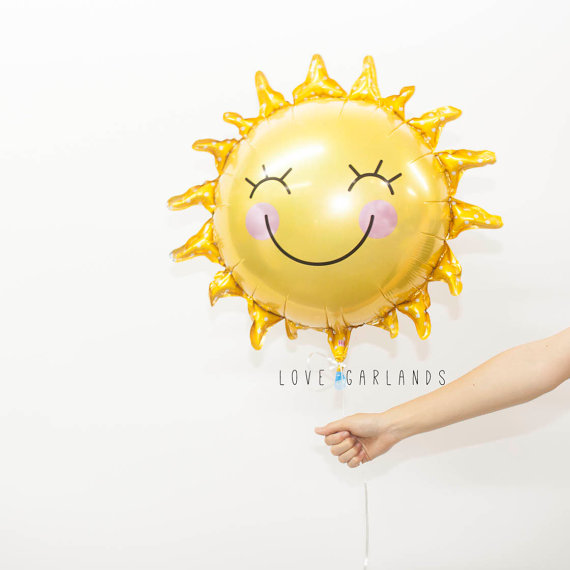 Warm Colored Tassels
These warm colored tassels will add just the right touch of color to your summer themed baby shower. Colors of the tassels include: bright orange, butter, peach, mint, and gold. Each tassel is made from a light weight plastic, which makes them durable enough to be used again after the party is over. The tassels are waterproof, so if you are planning to have an outdoor party, they will be able to withstand rain or getting splashed from pool water. You can request custom colors to match your party decor. 
Pineapple Straws
Nothing says summer quite like pineapples and a cold beverage. These white and gold pineapple straws will instantly transport your guests to a tropical island. The straws are sold in sets of ten and are sturdy enough to withstand your icy cold drinks for hours. These straws are standard sized drinking straws, so they will work for most cups. 
Watermelon Soap
Watermelon is a classic summer treat, so why not give your guests watermelon soap as baby shower favors? These soaps are made with natural goats milk and glycerin soaps. Poppy seeds serve as the watermelon seeds. As a bonus, the soaps also smell delicious enough to eat! The soaps are sold individually, so it is easy to order the perfect number for your party guests. 
Bright Tropical Flowers
These tropical decorations are made from tissue paper and will easily transform into beautiful summer flowers. The flowers include attached white ribbon at the tops to make for easy hanging, but they could also be used as centerpieces for your party tables. The flowers are sold in sets of three and each flower measures approximately sixteen inches across. Although the assembly is quite simple, instructions for putting your flowers together are included.