For Friends Planning a Surprise Baby Shower
The first thing you should do is talk to the dad-to-be. He may know what dates she is free and be able to make sure she is free on the date you choose. Also, he will probably be the one to take her out of the house while you decorate, so be sure to run everything by him. Also, ask him for a list of things that they need for the baby which they have not got yet. This will act as a registry of sorts so that they don't get all of the same things over and over.
Have one person in charge of the list and before buying the shower gift ask them to call you so you can check it off the list and if someone else already got them, you could offer suggestions.
Next, send out invitations clearly stating that it is a surprise so that nobody talks to the mom-to-be about it. Also, it is a good idea if you have a group of friends planning the shower, to give everyone specific tasks, who gets the cake, buys the banner, the balloons and so on.
This way everyone knows what to do and you are not scrambling the day of. Anything you can get early you should so that the cake and balloons are the only things you have to pick up on the day of the shower. Also, you should have an actual check list.
All the friends involved in planning come up with a list of things that need to be done and as each task is completed you check it off. This will ensure that nothing can be overlooked or forgotten.
For Friends Planning with the Mom-to-Be's knowledge
You should talk to her, ask her questions about what she wants and does not want at the shower. It might be an idea to mention to her about the kind of games you would be playing as well just to make sure she feels comfortable at her own shower. So, especially since she is pregnant, no matter how well you know her you have to talk about food.
She is likely to have certain foods she can't be around and others she can't get enough of. This is all about her so ask what she wants, cake or cupcakes, what kind of cake, what she wants on the cake, what theme if any, and everything else. There may be certain things she wants it to be up to you but knowing what she wants will be helpful.
Although the party isn't a surprise, the gifts are, so still do the registry through either parent. You can let her tell you what she needs the most or to have the gifts be more of a surprise you can ask him.
Make sure that if there are any duplicates that they are only the things you always need more of like diapers, bibs, towels, and clothes in all sizes because the baby grows very fast! You are still going to want to send out the invites early typically 4 weeks prior. Also, the task assignments and checklist still apply. You don't want to miss anything.
Surprise Invitations
A MUST DO with invitations is to clearly state that it is a surprise so that nobody talks to the mom-to-be about it!
Surprise Baby Shower Decorations
The question to ask here is whether or not you want a baby shower theme. While themes can make planning all details of the event easier because it's centered around one idea, it can also prove to be more challenging especially if you are limited with party stores nearby. So, when plotting the perfect look for the baby shower event, you can definitely count on one aesthetic that is a must for décor—pastels. You can add a chalkboard into the decor also.
Whether the upcoming bundle of joy is a boy, girl, or twins that are both, a palate of pastel colors is just what every baby shower needs. Pastels are light, whimsical, and offer a true joyous feeling to the event that you're celebrating in the first place. And you can never have too much pastel, either.
Blush tablecloths, mint streamers, and even soft blue lighting all mix and match splendidly well together. Pale yellow streamers, lavender flower centerpieces, and even ombre pastels incorporated into an announcement board or guestbook are all gorgeous foundations for great décor.
Decorations are also all about ambiance, too, and setting the tone and mood of the party for the guests. Tiny, twinkling fairy lights all around the venue space add a dose of magic, while billowing ivory sheer curtains and big burlap bows both offer a sweet look. Some basics that you can't go wrong with? Baby's Breath florals, miniature baby animal décor, and lots of big balloons! Oh, and one more thing—banners that spell out "SURPRISE" since it is, after all, a total surprise party for the new mom!
Amazing Baby Shower Food
Who doesn't love a great food spread at a party?! Make your fare stand out with delectable desserts and scrumptious appetizers. No matter what time of day the party is, it's best to stick with easy-to-eat food such as fingerfoods. Always be sure to check and see if any guests have food allergies before putting your menu together.
For salty dishes, great options are chips and pretzels with a wide variety of dips, mixed nuts, potstickers, meatballs, and a charcuterie board full of good cheeses, yummy meats, and delicious veggies. Of course, you can serve up this tasty food in cute dishes and bowls that fall in line with celebrating the baby-to-be.
The sweet table can be just as drool-worthy, too, so make the centerpiece the main event cake. From multi-tiered to sheet design to a cupcake tower, choose a type of cake that best suits the new mom's personality. (And don't forget the non-edible diaper cake in there, too! The new parents will definitely be able to use that for their little one!)
An adorable cake topper that celebrates the mother or the baby (or both!) is a great idea, as well. Apothecary jars packed full of favorite candies and treats are a must-have, along with brownies, cookies, and cake-pops all served in cutesy baby-themed ware. You can even box up gourmet, personalize treats for guests to take home with them.
Depending on the time of year, a hot chocolate or chocolate milk, lemonade station or baby shower punch drinks are also fabulous ideas for beverages. And though the new mom won't be enjoying libations, it's always a nice idea to have some wine or champagne on hand for guests to enjoy.
Sweet Baby Shower Favors
You can't have a great baby shower party without great favors and gifts for guests to take home with them. And just like décor and food, there are so many options out there when it comes to fantastic baby shower favors. Sweet little baby keychains or personalized candles, bath bombs, coasters, or anything for the home are all things that everyone will truly treasure.
Special candy such as Jordan almonds makes for a unique and fun favor, along with pastel-colored macaroons. Presentation is just as important as the gifts, too, so think to put your favors in packagings such as baby bottles, Chinese box cartons, cute hat boxes, or pretty fabric bags. When putting together favors, you always want to aim for making whatever it is you choose something that is memorable for your guests.
Fun Games and Activities
Now on to the best part of the shower—the games and activities! Everyone loves classic baby shower games such as baby diaper thoughts (late night diapers), baby word scramble, and baby mad lib, so be sure to include those. New games can be brought in as well, so think options like Baby Minute to Win It and Baby Charades.
All of these games are super interactive and easy to understand. You can even hand out prizes to the winners. And it's not just games that are fun for guests—creation stations are a blast, too.
Set up areas in which guests and the new mom can get crafty creating artwork for new baby's room or decorating an infant onesie or beanie. These are keepsakes that the new mommy will love forever. It's also a fantastic way for guests that maybe don't know one another can interact and engage.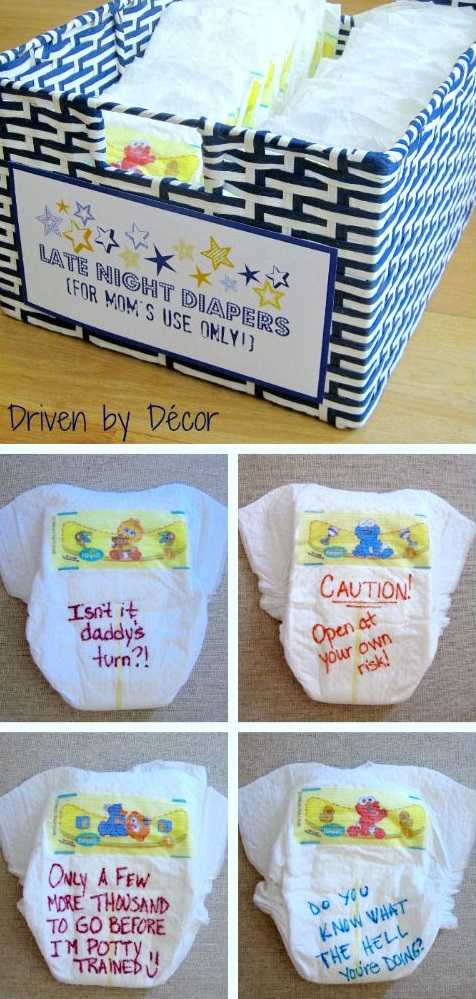 The most difficult part of planning a baby shower isn't in the details, but really in making sure it's actually kept a surprise! Double and triple check with all the invited guests that they absolutely keep the party hush-hush so that word doesn't get to mommy-to-be and ruin the surprise. And if you can swing it, have guests all arrive earlier than the guest of honor herself so that a delightful greeting of "SURPRISE!" can be the first thing she hears when she walks in the door.