A new baby is sure to bring a little sunshine into the lives of many. A sunshine themed baby shower is a great way to celebrate a new life. The bright shades of yellow will be sure to bring a smile to the faces of all of your guests. Get ready to shine bright while creating the perfect baby shower. Below are some ideas to get you started.
You Are My Sunshine Banner
This sunshine themed banner comes in colors that makes it the perfect decoration to celebrate a baby girl or boy. The banner is made from high quality chipboard, so it will last after the party is over. Not only is this banner a great party decoration, it would also be a beautiful decoration to brighten up a nursery. The gray font and pink ribbon in the picture demonstrates just one of many color options.
You Are My Sunshine Diaper Cakes
If you're throwing a party, you will certainly need table decorations. These sunshine themed diaper cakes will add just the right touch of color to your tables. The diaper cakes are sold in sets of three and each cake is made with seven high quality, useable diapers. The diaper cakes would also be a great gift for a future mom.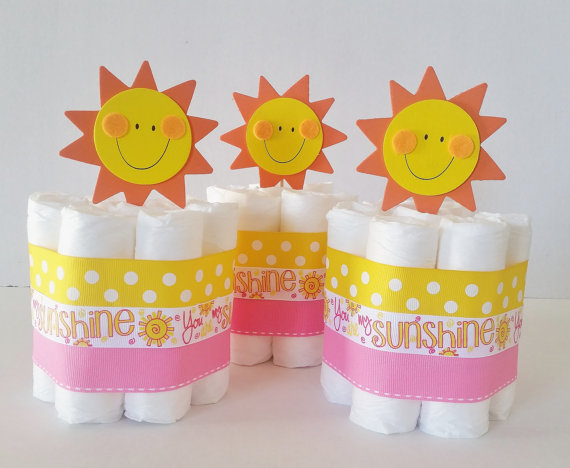 You Are My Sunshine Cake Topper
This cake topper is sure to turn your drab white cake into a fab white cake. This topper measure four inches tall not including the stake and will fit most cakes. The topper is acrylic and will last for years after your party. It could be reused or stored away as a reminder of the special celebration. The cake topper is also available in a variety of colors to match the colors of your baby shower.
Sunshine Straws
It's likely that you will serve beverages at your baby shower. Give your beverages and extra touch of glamour with these sunshine straws. Each set includes twenty-five straws and assorted sunshine attachments. Assembly is simple, so no need to worry about spending hours trying to make the perfect decorations. The straws can be used as party favors or can be placed in mason jars to add style to your beverages.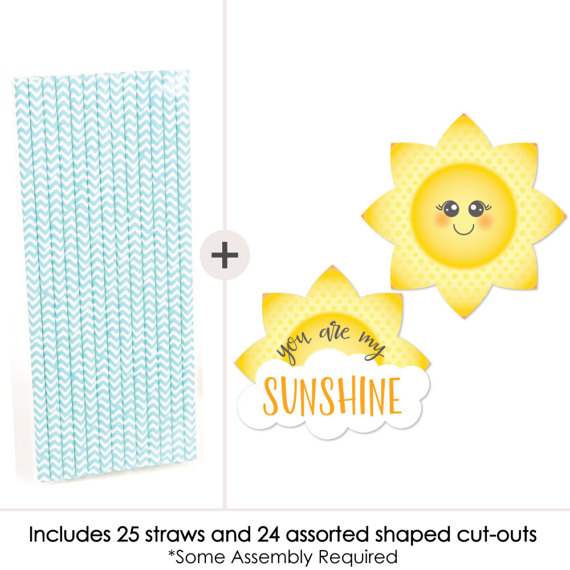 You are My Sunshine Themed Soap
Give your guests a special gift that they can use with these sunshine themed soaps. Each soap is all natural and includes oils that are good for the skin. Your guests will love being able to give their skin special treatment when they go home. The soap's ingredients include coconut oil, palm oil, olive oil, castor oil, and essential oil of choice. Each bar is hand cut and weights approximately one ounce. The soaps are sold in sets of twenty and come packaged ready to handout to your guests. The soaps are also available is a wide variety of scents.