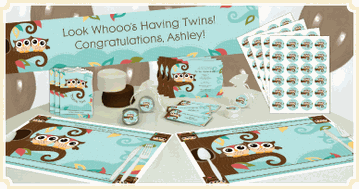 Popular Twin Baby Shower Themes
Browse ALL Baby Shower Themes for Baby Twins & Have Double the Fun!
That old saying, "All good things come in pairs" never reigned truer than when expecting twins.  Although you get double the fun, preparation for a baby shower for twins is not double the trouble as there are plenty of ideas out there that cater specifically to these two little bundles that share the love of their mother. Baby showers are plenty of work, but they really do not need to be.  When you look at this event as more of a game than a planned event, it can be much more delightful to plan.  And there are many baby shower ideas centered on twins.

There is always the classic Noah's Ark theme with two of each animal loading onto the boat. This idea can be thrown in several different directions.  Many people like to put together boats with assorted baby items placed inside, such as booties, pacifiers, and bottles.  For decorations, two balloons of different types of animals can be an adorable touch.  For snacks, animal cookies inside of a plastic boat add something extra.  While Noah's Ark remains a classic, there is a more modern and humorous theme of double trouble.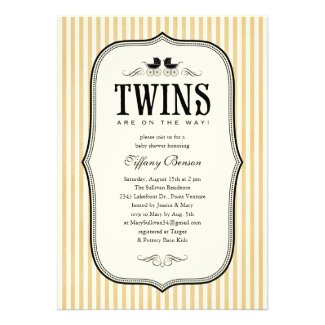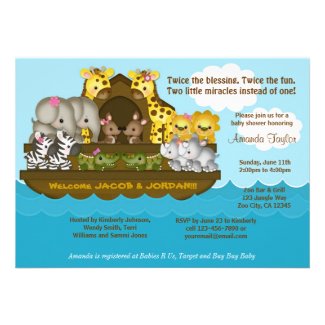 With a double trouble theme, set out a picture of the mother and father-to-be with a baby pacifier as a reminder that they will be getting two little people that are duplicates of themselves running around causing chaos.  For a little fun, have the guests fill out two sides of the guest book: one side being genuine advice for taking care of the babies and the other being a delightful joke about having to chase around the mischievous little ones.
If you want a genuinely adorable shower for a nervous expectant mother who would appreciate something a little more sincere, two peas in a pod is a great way to go.  This is a traditional baby shower theme, where you find things that are made mostly of green for decoration.  Also, pick green dishes to lay out for those hungry party- goers.  For some gorgeous favor ideas, there are two peas in a pod salt and pepper shakers that will go right along with the theme.  Or if you would rather go with something more homemade, green mints in tins go just as well.

When picking out a theme, it is important to be creative and always ask for ideas from the expectant mother's family if it is to be a surprise for her.  You never know what kind of ideas some people will come up with.  The most traditional theme that one may go with is simply picking things in pairs and giving them their own individual flare.  Bassinets can be handy for most parents expecting twins since they are typically more affordable than a full-size crib. Make the bassinet extra special by decorating them with lace.  Crafting quilts for the babies can provide them with their own individuality.  Most babies are comforted by a blanket, but a hand-crafted quilt is more personal and meaningful for both the parents and the babies.  Making that moment special is what it is all about.
Having twins can be absolute chaos, but making a baby shower that can provide the essentials for mom and dad can make the transition from two to four much easier and more peaceful.  Let that saying ring in your head while you are jotting down all of the finer details to the shower, "All good things come in pairs."