Baby showers are special occasions for both a mother and her nearest and dearest. With a happy undertone to proceedings, gifts, laughter and a small slice of cake (or two) are just some of the things that make the day memorable.
But another thing that makes the day memorable – often for all the wrong reasons – is the age-old tradition of baby shower games. A subtle simultaneous cringe can be felt among guests whenever the idea of games gets suggested. Yet baby shower games really can be fun. It just takes a little invention and a step away from the norm.
Here are 5 baby shower games you can play that won't leave guests edging towards the exit.
Draw, baby!
For guaranteed hilarity, the Draw, baby! game is the way to go.
Start by handing out well-made paper plates to all of your guests. (You know, the type that won't bend easily.) Tell them their task is to draw a picture of a baby. Sounds simple, right? But there's a small catch! The paper plate has to be placed on his or her head while drawing.
Watching each other create masterpieces from such an unnatural angle is funny enough, but when everybody's drawings are revealed to group, that's when the real laughter begins.
Reward the flexible artist with a gift of your choice. They've earned it.
How Big is Mommy?
During any other period in a woman's life, talking about her weight is forbidden. But this is pregnancy, and it's a party after all, so all bets are off. This game is called How Big is Mommy? The aim of the game is simple: guess the gorgeous pregnant lady's measurements. Each player is allowed to look at the expectant mother as much as they want, but no touching is allowed.
With a piece of yarn and some scissors, guests then cut a piece they believe fits around mommy's waist perfectly. After everybody's piece of yarn has been tested, the closest one wins. Prizes make this game even more competitive. Not that an added incentive is usually required to encourage ruthlessness.
Drink Up!
Having something to drink at any event is pretty much a routine thing to do. So why not capitalize on people's need for refreshment by turning it into a cruel, yet amusing game.
Drink Up involves filling several baby bottles with a liquid of choice. Whether you want to go with apple juice or beer is completely up to you. Guests then have to race to see who can finish their tipple the fastest.
Chants of "Down it" make this game even more amusing.
Eat Up
Raising children is messy. That's just the way it is. So why not play on this theme for one of your baby shower games? Split everybody up into pairs and hand each pair a bib, two spoons and a small tub of applesauce. Oh, and a blindfold.
Each pair takes it in turns to feed the other blindfolded. The fastest pair to finish their applesauce is, of course, the winner. Though the real winner here is you. Watching your friends and family covered in baby food is something you won't forget in a hurry.
Baby Cakes
While technically not a game as such, Baby Cakes offers a more relaxed way for you and friends to have fun. A batch of delicious cupcakes are baked before everyone arrives, only none of them have any frosting. Oh, and one has a mini toy baby inside.
After bringing them out, and getting guests to frost their own, let them know about the toy baby inside one of the cupcakes. This works a little like throwing the bouquet at a wedding. Whoever's lucky enough to find the toy baby will be next up for a baby shower. At least in theory!
Everybody else? Well they get tasty cupcakes.
More Baby Shower Game Ideas: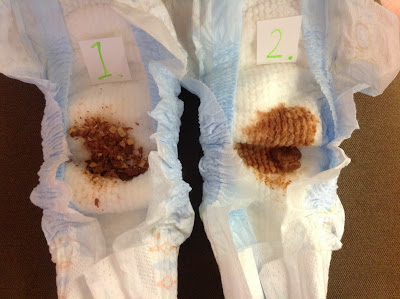 MORE INSPIRATIONS: