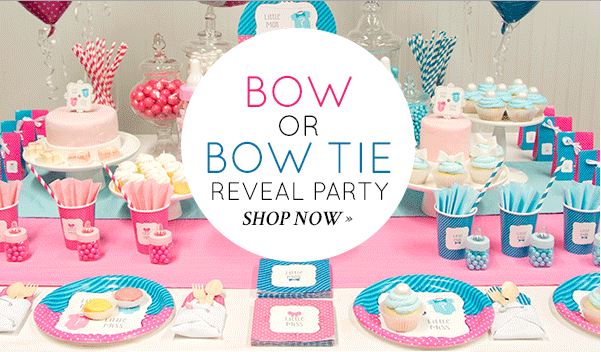 Having a baby shower that includes the 'gender reveal' of the tiny person inside the mommy-to-be's belly it's a celebration that is double the fun! As a host, there are certain extra responsibilities that come along with planning a 'gender revealing' baby shower.
First, you would need to obtain the ultrasound from mommy-to-be. Its important to keep the secret until the proper moment! Once you have the envelope, you can start preparing your "Beau or bow?" themed baby shower. Here are some steps that will help you organize a nice surprise for the parents to be and guests.
Decorations
Welcome your guests with a blackboard containing pink bows and blue mustaches as name tags. Leave the tags blank, and let the guest make their guess by picking a bow or a mustache and write their name on it. Or you can simply draw on the blackboard, a pink bow and a blue mustache and ask the guests to make their guess and draw a line next to the bow or mustache, indicating their choice. Give a sprinkle of style with some pink paper bows and blue paper mustaches decorations. Other color scheme would be black and red.
Invitations
Crafting the invitations is also very important. Naturally they will revolve around the 'Bow or Beau?' theme. Incorporate a white dotted paper for the background and glue a folded pink bow and a folded blue mustache on it for a fun approach and write the text inside the figurines. This is only a suggestion there are numerous inspirational ideas out there if this isn't to your liking.
Food & Drinks
Bring out appetizers such as cookies and cupcakes, for those that have a sweet tooth, or you can select more savory options. You can always search on the Internet for handmade delicious and simple recipes. The most popular recipe is with royal icing. Use fondant accents to make them pink or blue to fit in the background. For drinks you can prepare some strawberry lemonade and blueberry lemonade. Use some pink ribbons and blue mustaches to decorate the glasses and don't forget to buy some matching straws.
A fruit centerpiece adds a fresh tone to the party. Use raspberries and blue berries as main ingredients to your fruit platter. Now, here comes the big moment. Take the envelope and give it to pastry cooker. Ask him or her to fill the cake on the inside with blue or pink butter cream depending on baby's gender while on the outside, a neutral icing will do great covering the surprise. When parents-to-be cut the cake the butter cream will give them the big news. It's the best idea to surprise all of the guests including you.
How to Make Bow-Tie Napkins by Sharon Chase via youtube
 Games & Favors
Once the final surprise is revealed, the real party can start. Here is a great idea to have the ultimate fun, besides the guessing game. It may sound a bit complicated but in fact is not. Set a photo booth and use the bows and mustaches sticks to make some crazy photos. Don't limit yourself to the sticks, craft some other decorations such a "It's a boy/girl" board, or bow hair accessories for women and mustaches for men. Go crazy and make as many photos as you can, because at the end, every guest should receive a visual memory of the baby shower. Before revealing the baby's gender, you can also try other games based on guessing and reward the winners with baby shower favors like scent candles, nail polish or cupcakes all wrapped in a lovely packaging.
Follow My Mess's board Baby Shower Beau or Bow Theme on Pinterest.