Cupcake or Stud Muffin Gender Reveal Ideas: One of the freshest, and most unique themes to pop up recently in the baby gender reveal realm is the Cupcake or Stud Muffin surprise. You can set up a perfect party for guests to walk into the reveal of a little "sweet cupcake or a handsome stud muffin in your oven"!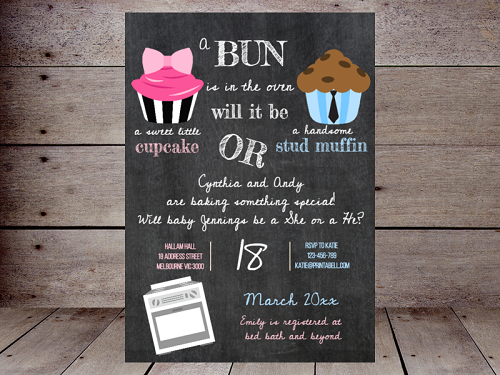 Cupcake or Stud Muffin Food Ideas
Food fare should be a breeze because mostly, you'll be serving up a delightful assortment of delicious muffins and cupcakes! Go crazy with crowd favorites like blueberry and chocolate chip,, and throw in some wildcards for guests to try for the first time as well, such as glazed lemon crumb, zucchini, and French breakfast muffins. Of course, for beverages, coffee, tea, and mimosas always pair quite well!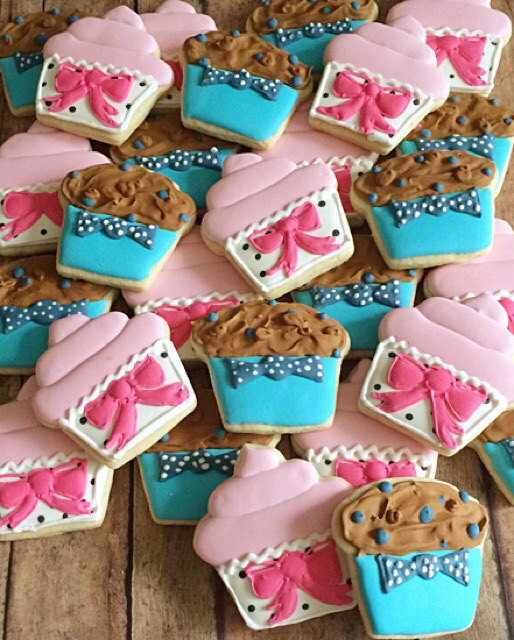 Cupcake or Stud Muffin Decors
Decorations can also be easy breezy, with garlands of blue/pink and white polka dot bows and ties strung across the party space, adjacent to twinkling fairy lights. If you do decide to throw in the "Cupcake or Stud Muffin" reveal, you can have t-shirts made in blue and pink for guests to wear that read "Team Cupcake" and "Team Studmuffin". You can also post up a chalkboard for guests to vote which gender they think it is!
The Reveal
As far as the actual reveal goes, you can opt for something traditional such a balloon pop with blue miniature stud muffins/pink cupcake exploding out, or the inside of the main event cake to be dyed blue/pink for when you cut the first slice. However, if you choose to go a more interesting route, try having a fresh batch of muffins or cupcakes baking in the oven, covered so that guests cannot see, and can only smell the aroma drifting through the party space. Once all the guests have settled in, the oven dings, and voila! Out comes the gorgeous array of little stud muffins or cupcakes to welcome the new little boy or girl into the world.