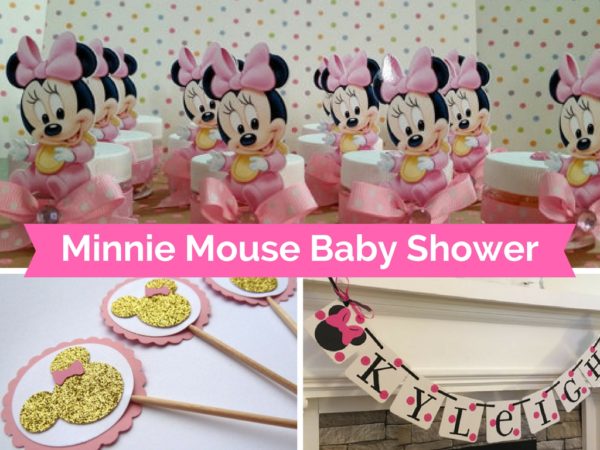 Minnie Mouse is a classic Disney character that brings back memories of childhood for many adults. Because Minnie is playful and incorporates many shades of pink, she makes the perfect theme to welcome a new baby girl into the world. Since Minnie Mouse is Disney character, there are endless opportunities to find the perfect decorations for your party.
Minnie Mouse Table Centerpiece
Every party needs a centerpiece to add a touch of theme to the main table. This centerpiece comes with five Minnie Mouse themed pieces. The photo shows the pieces elegantly displayed in a mason jar with shredded paper. The jar and paper shreds are not included, however, this look would be easy to achieve at home. In addition, you could place the decorations in a taller jar or basket. The decorations are made with heavy card stock, so they will last long after the party is over.
Minnie Mouse Name Banner
This Minnie Mouse banner makes an easy decoration for any room at the party. The banner is simple to hang and can be saved for many years after the party. While the banner in the photo is shown in bright pink, you can customize the banner with colors of your choice. Since the banner is hand-stamped using acrylic paint, it will be a one of a kind decoration that will be cherished for years after the party.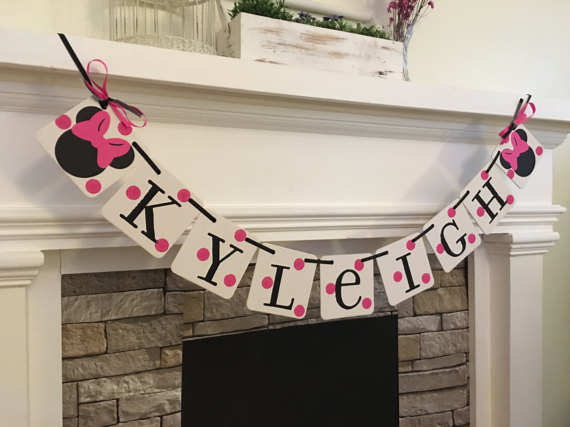 Minnie Mouse Cupcake Toppers
Serve your guests stylish cupcakes with these Minnie Mouse cupcake toppers. Each topper is made with high quality, acid free card stock and has a touch of gold glitter. These cupcakes toppers are sold in sets of 24, however, if you're having a larger party, the seller will accommodate to meet your needs. If you're not a fan of cupcakes, you could also use this toppers to easily decorate bars or cookies.
Minnie Mouse Mentos Party Favors
Of course, you can't send your guests home empty handed, so why not send them home with these adorably packaged mentos? These party favors are sold in packs of twelve and arrive ready to gift. The pink mentos are stored in plastic jars that are embellished with rhinestones and ribbons.  On the top of the jar is an adorable Minnie Mouse cutout. The jars are also available with blue ribbon for a Mickey Mouse themed baby shower.
Party Favor Gift Bags
If you've already picked out the perfect party favors, these gift bags will help you easily handout out your party favors in style. The bags are sold in sets of ten and work great for storing treats such as popcorn or candy. Each set also includes clear bags with twist ties. You can choose from a variety of colors to fit your party decor.