Silhouette theme is perfect for Co-ed Baby Shower!
Silhouette baby showers became more and more popular as they are incredibly catchy and easy to manage the decorating component  of the party. Silhouette themes are popular at couple's baby showers where both parents are to participate or at gender-reveal baby showers. They are perfect if you want to keep the theme neutral or you can go for pink for a girl, or sweet pastel blue for a boy. Check out these tips that will come in handy for a silhouette themed baby shower.
Silhouette Decorations
First of all, think about the basic look of the silhouette. A cute baby silhouette will make perfect as main decorations for the room. You can craft them out of cardboard and paint them in mint green nuances with chocolate shades which are chic neutral colors for a baby shower, taking dullness out of the picture.
Silhouette Banner
Now, the banner should either state baby's gender as in "It's a boy/girl" or " Couple's name baby shower". Right under the banner and between the silhouettes comes the table which you will garnish with a lovely mint green (for gender neutral option) table cloth. Add a touch of formality by placing some brown coffee bean bowls as decorations. Coffee is elegant not only by visual aspects but also by giving a unique scent to the whole room.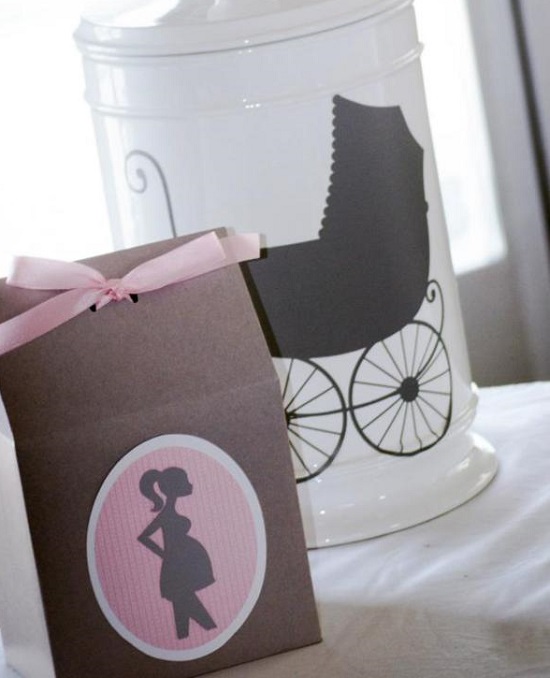 To personalize the entire idea, craft some name tags with mommy's silhouette on mint green background with brown dots for women and daddy's silhouette on brown background with mint green dots for men. Do the same thing for glasses and plates so that everyone is organized. If drinks require delicate glasses you can apply theme colors on personalized straws.
Silhouette Theme Food and Drinks
For an exclusive baby shower, surprise your guests and most importantly, parents to be, with pistachio treats and an amazing chocolate taste both matching colors of the theme. For the first part of the chocolate taste, try to find some Belgian truffles, they are exquisite and so delicious. For second part of the taste prepare some chocolate cookies made by yourself and to surprise the audience even more, try to give them the matching silhouette shape. If you are not able to create the shapes on your own ask for professional help. Along with the chocolate taste a pistachio butter cream cake with marzipan will take your guests to culinary paradise.
Since you are having such a sweet baby shower, a mimosa-bar (Mom-osa Bar) will go perfectly for your guests. Don't forget about mommy to be and prepare a virgin cocktail option for her, and a coffee and tea bar, after so much sugar this will go smoothly.
Silhouette Theme Favors
This baby shower EOS lip balm favor printable will be the perfect thank you gift favor for your baby shower theme. "Thank you for helping us shower the baby with love" is written next to a silhouette of mommy-to-be. You can download the file and print them instantly!
Follow My Mess's board Baby Shower Silhouette Theme Inspirations on Pinterest.